Eclipse Unconference Europe 2016
Eclipse Unconference
This page is the live agenda for the Eclipse Unconference in Ludwigsburg on October 24, 2016 at the Forum.
Please note: You must register (and pay) for the Unconference in order to attend the sessions below. You may add the Unconference registration to your EclipseCon Europe registration, or you may register for the Unconference only. See more on the EclipseCon Europe registration page.
The Unconference rooms are almost full so please get in touch with us (gael.blondelle _ at _ eclipse.org and susan.iwai _ at _ eclipse.org) if you need space for your group.
Registration and logistics
Unlike the regular conference, this Unconference is organized by YOU. There will be food and beverages, power and projectors, and meeting rooms. We will coordinate just a bit to avoid obvious topic overlaps during the day and to make sure that everybody has the right place for their group.
There will be some spaces dedicated to a Dev co-working space, that is, spaces where developers meet and work together on their preferred projects. Both experienced and new contributors will find that the co-working space is a good chance to meet and learn from each other.
Registration: If you plan to participate, you have to register for the Unconference on the conference registration page.
Unconference Organizers
Susan Iwai: Eclipse Foundation Europe - Unconference coordination
Gaël Blondelle: Eclipse Foundation Europe - Unconference cordination / Embedded Systems
Ian Skerrett and Benjamin Cabé: IoT Working Group
Matthias Zimmermann: Scout User Group Meeting
Torkild Resheim: Science Working Group
Johannes Kristan (Bosch SI), Michael Jaeger (Siemens): Open Source Component Management
Poster session
During the Unconference, we will host a poster session over our lunch break. Please send an email to gael.blondelle _at_ eclipse.org and susan.iwai _ at _ eclipse.org if you plan to come with a poster so that we make sure we have enough boards for display. The displays are 118 cm wide x 141 cm high. Please list your poster below.
List of posters:
Papyrus Industry Consortium
Papyrus for Real Time
Yatta Profiles for Eclipse Note: Yatta needs two poster boards
BaSys Project: BaSys 4.0 is a new German Industrial Internet project which plans to develop an "operating system" (as a common middleware similar to AUTOSAR) for production plants and industrial applications in general.
Gemoc Research Consortium
Long Term Support Working Group
Unconference Agenda
The Unconference has two tracks. Track 1 starts at 9:00 and has two 90-minute morning sessions. Track 2 starts at 10:30 and has two 60-minute morning sessions. Both tracks follow the same lunch and afternoon schedule.
Morning Track A: IoT, Science, CDT Summit, Scout User Group Meeting
Registration and Welcome Coffee 8:00
Session A1 09:00 - 10:30
Coffee 10:30 - 11:00
Session A2 11:00 - 12:30
Morning Track B: Eclipse Startup Meetup, OpenMDM + OpenPASS, OSS Component Management
Registration and Welcome coffee 10:00
Session B1 10:30 - 11:30
Session B2 11:30 - 12:30
Afternoon:
Lunch and Poster Session 12:30 - 14:00
Session 3 14:00 - 15:30
Coffee 15:30 - 16:00
Session 4 16:00 - 17:30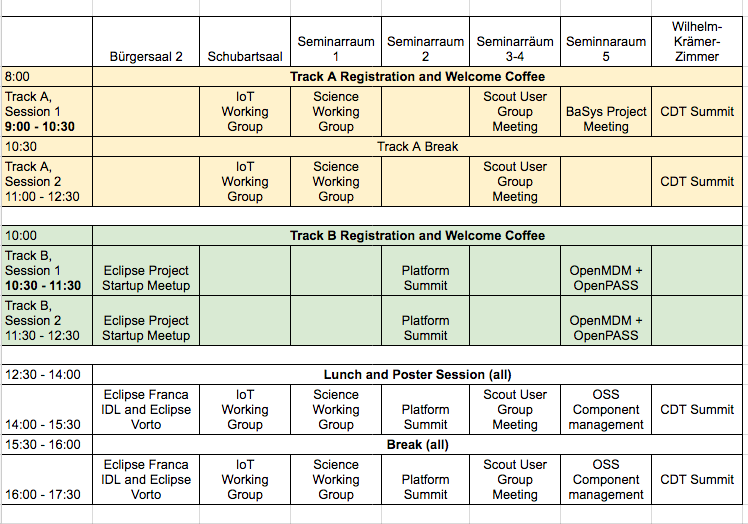 Unconference session descriptions
IoT Working Group
A meeting of the Eclipse IoT community and IoT enthusiasts. Join us to learn about IoT at Eclipse and share your thoughts on the requirements for building an Internet of Things based on open source and open standards.
Session coordinators: Ian Skerrett, Benjamin Cabé
Room: Schubartsaal
Project Updates / New Project Introduction - 9:00 - 12:30
Each project will spend 10 minutes updating on their current status. The update should include:
Project Overview: Short (1 slide) reminder about your project functionality. This is for people who are be new.
Project stats: tell us how well your project is doing. Number of download, number of contributors, number of bugs opened, number of mailing list subscribers, etc.
Project plan: when is the next release and what are the key features.
Key Challenges: What challenges/issues are you having?
Collaboration Opportunities: Where do you see potential for collaboration with other Eclipse IoT projects or other communities.
Invited Speakers
Introduction to joynr - David Katz, BMW Car-IT - Slides
Web of Things Introduction - Matthias Kovatsch - Slides
Eclipse IoT User Case - Alexander Schmitt, DB Systel - Slides
FIT IoT-Lab: A Large Scale IoT Testbed - Emmanuel Baccelli, Inria Slides
Collaboration Topics / Open Whiteboard
Collaboration on inter-operable components for an IoT Cloud - Stefano Morson
PMC Roundtable - PMC Leader
Goals and Strategy for Eclipse IoT WG in 2017 - Ian Skerrett
Science Working Group
Meet and greet with the Science Working Group community. Project updates, ...
Session coordinator: Torkild Resheim
Other participants : Philip Wenig, Davy De Durpel & Erwin De Ley, Werner Keil, Ian Mayo
9:00-10:30 Time slot 1
Welcome and project overviews
what have we been working on last year
small demo
roadmap for next x months
11:00-12:30 Time slot 2
How to get other projects onboard like BioClipse, ...?
Are HDF5 bundles in Orbit available already?
14:00-15:30 Time slot 3
Things related to science projects release
Status of the Science release : did we meet the Oct 21 target, open issues, ...
Is it possible to create an "Eclipse IDE for Scientists" like "Eclipse IDE for Java EE Developers" or "Eclipse for RCP and RAP Developers"?
Which steps are necessary to be part of the release train next year?
16:00-17:30 Time slot 4
How to use JSR-363 in a Science project or migrate from JSR-275/JScience 4
Eclipse STEM Overview
Open Source Component Management
As pointed out in the SW360 project proposal, software is not built from scratch, but rather assembled from various prepackaged third-party software components. As a result, organizations face the following challenges:
Verifying various aspects of compliance when using third-party software components: license compliance, ECC checks, IP assessments, etc.
Sharing knowledge about software components and their qualities.
Providing a broad overview of the components used.
Coping with a growing amount of 3rd party components. See the module count web site for the numbers.
As a consequence, the inter-operation between software management and software analysis tools is inevitable. In a growing ecosystem of tools and solutions in this area, common interfaces and data formats are required for comprehensive usage in organizations.
The goal of this sessions is to
introduce and connect between different efforts in this area
A first step towards common interfaces and data formats: getting a common understanding about the challenges and how to cover this topic further.
For example, the Eclipse IP team is not the only to face these challenges, and the Eclipse community is now tackling the topic with projects like SW360.
Meet the SW360 project leaders and other experts for fruitful exchanges about this topic.
Session coordinators: Johannes Kristan from Bosch SI and Michael C. Jaeger from Siemens Corporate Technology (SW360 Project)
Targeted Audience: Everyone is welcome to participate who is interested and/or has ideas how to contribute to this area.
14:00-15:30 Introduction and Information
Welcome and introduction of session attendees - all
Discussion of expectations to session - all
Open Source Component Management - Johannes Kristan and Michael C. Jaeger (SW360 project)
Overview SW360 project - Johannes Kristan and Michael C. Jaeger (SW360 project)
16:00-17:30 Open Space
Drawing a big picture of software management
Identifying collaboration mode for next steps
...
Platform Summit
This group is created to have discussion around the Eclipse Platform architecture and possible enhancement we could do for the next release. Of course this group is also the place to be for eclipse platform committers, to know us better and to share our ideas.
Join this session if you have any idea about this topic, and especially if you are an Eclipse platform committer.
Of course, use this issue list to give your feedback and your ideas even if you can not attend.
Session coordinators: Olivier Prouvost, Lars Vogel and Alex Kurtakov
Details: https://wiki.eclipse.org/Platform/summitece2016
CDT Summit
The CDT Summit is a one-day, informal gathering of CDT (Eclipse C++ Development Tooling Project) users and extenders. The goal of the summit is to collaborate and drive the future direction of CDT.
Scout User Group
The Scout User Group Meeting is the place to learn and exchange about building business applications with the Scout framework. The day offers a chance to hear the latest on updates to the platform, exchange with fellow users or even get yourself started using Scout. Scout users are invited to present their experiences and ideas for using and developing the framework. Find out more!
Eclipse Project Startup Meetup
This session is for projects starting up at Eclipse. It is an opportunity to introduce your project to the Eclipse community and help your contributors and committers get the information they need during their launch phase.
We will be giving all new projects an opportunity to do a lightening talk during the session. We also encourage you to take advantage of the lunch time poster session. Visit the Eclipse Project Startup Meetup page for more information and registration.
We welcome suggestions for topics you as a new project would like to discuss. Email susan.iwai@eclipse.org with your suggestions!
Eclipse Franca IDL and Eclipse Vorto
Franca and Vorto both offer an interface definition language and code generators for modeling communications interfaces. This session will allow the creators of these two projects to present their tools to each other, with the goal of identifying potential areas of future collaboration. Users of these tools are also welcome to participate and bring a requirements perspective to the discussion.