Papyrus-RT/User/User Guide/Eclipse Installer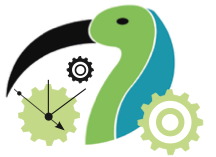 Installing Papyrus for Real Time using the Eclipse Installer
Introduction
This tutorial will show you how to install Papyrus for Real Time using the Oomph-based Eclipse Installer.
Install the Eclipse Installer
First, you will need to download and install the Eclipse Installer.
Note: If you are installing into an existing Eclipse workbench, you can follow the instructions on the "[Papyrus-RT/User Guide/Installation | Installing Papyrus for Real Time - Manual Installation]" tutorial.
Download the "Eclipse Installer" package for your operating system
Decompress the downloaded archive to a folder such as "~/Apps/EclipseInstaller/" (folder name and location will vary depending on operating system)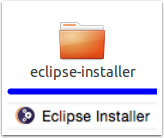 Install Papyrus for Real Time
Now that the installer is available, you can install the software.
Start the Eclipse Installer
Open the eclipse-installer folder and double-click on the eclipse-inst application.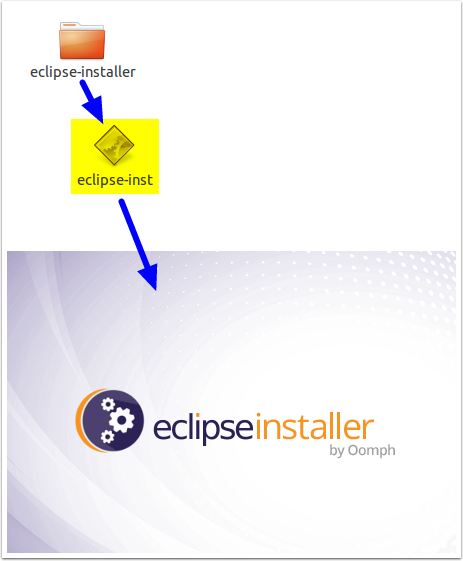 Skip ahead if Papyrus-RT setup is already available
If you see Papyrus-RT in the list of products after opening the Eclipse Installer, go to Install Papyrus-RT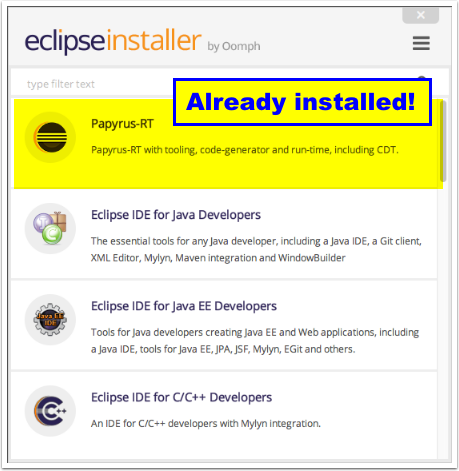 Add Papyrus-RT to the list of projects
You have now started the Eclipse Installer.
However, the Papyrus-RT product is not available in the list of projects presented to you. You will have to manually add it to the list.
Click on the icon at the top right.
Select "Advanced Mode..."
This has for effect to restart the Eclipse Installer in the "Advanced Mode", which will allow you to specify an external setup file.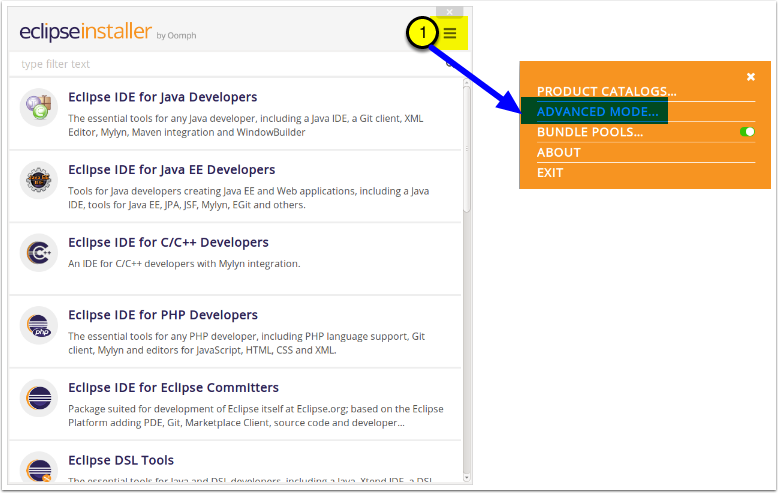 Set up the Papyrus-RT configuration
You can now set up the Papyrus-RT configuration that will define the how to install the product.
Select the <User Products> from the list. If you don't see this item, click the folder icon on the top-right of the dialog. A drop-down list should appear and show <User Products>. Select it. No it should appear in the main list.
Click on the [+] to the right of the filter box to add a user product.
In the resulting dialog, enter the following URL in the "Resource URIs:" box: (you may want to cut and paste from this page)


https://www.eclipse.org/papyrus-rt/content/setup/papyrus-rt.setup

Click [OK].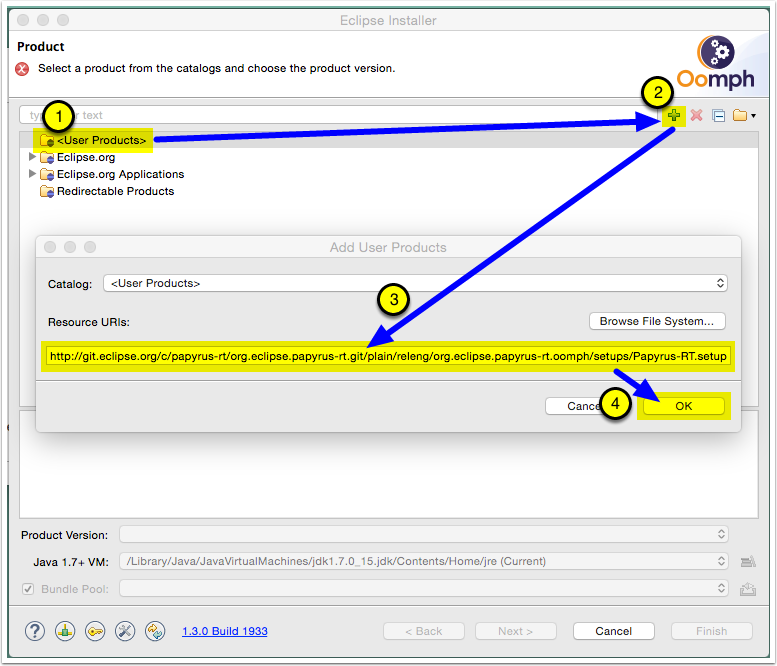 Go back to simple mode
The Papyrus-RT product is now available in the list of products.
Click on the "Switch to simple mode" button to get back to the simpler interface.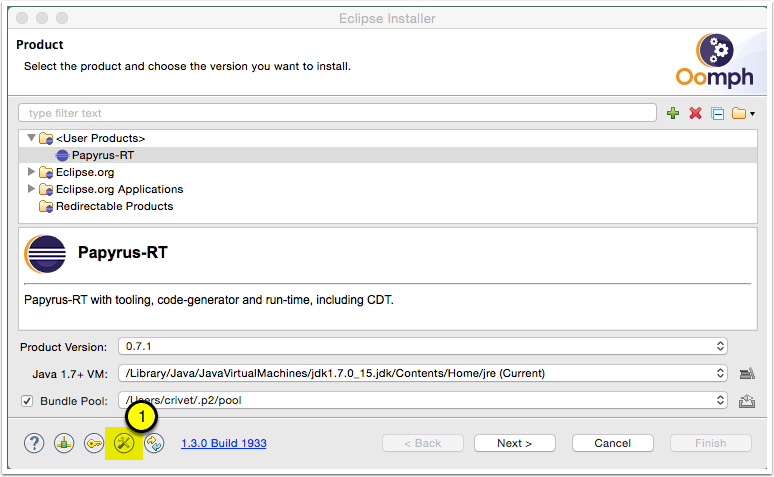 Install Papyrus-RT
You can now install the Papyrus-RT product
Click on [Papyrus-RT]
Select the desired version of Papyrus-RT to install (latest version is shown by default)
Validate the Java VM
Pick the location for the installation
Click on [Install]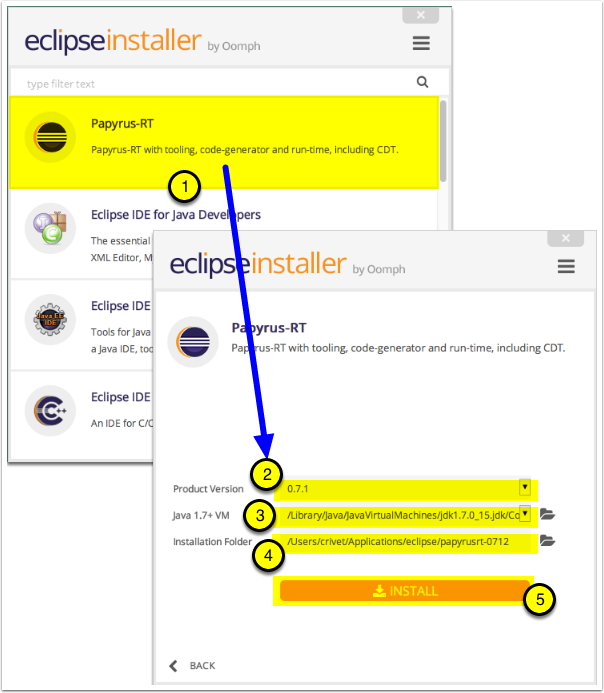 Launch!
You can now click on [LAUNCH] to start creating models!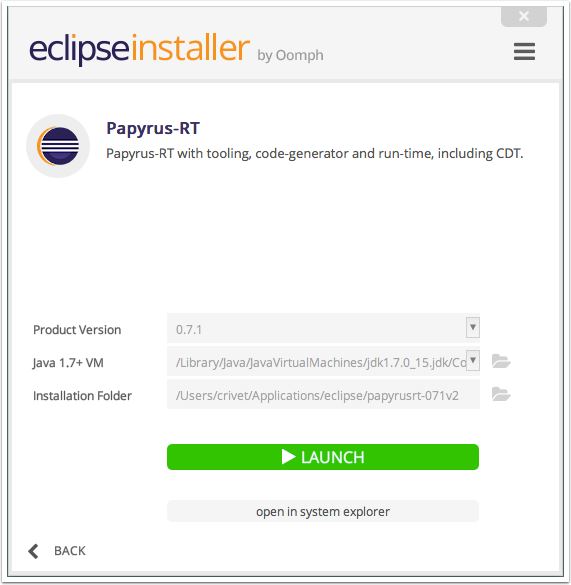 Done!