Papyrus-RT/Releases/Neon v0.8 Release Notes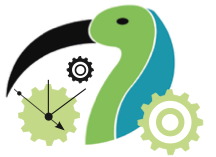 Release Notes - v0.8 - Build up the structure!
Focus
This release focused on the modeling of the UML-RT's structural aspects (e.g., capsule, protocol) and on the improvement of the structure modeling user experience!
Who is it for?
The following actors were considered for this release's work.
Academia
Early evaluators

Basic UML-RT usage, concentrating on structure modeling

DSML Toolsmiths

Creation of Papyrus-RT based DSLs (Domain Specific Languages)
Features
the following features were addressed by this release.
Parity of capabilities between model explorer and diagrams

Work in either the model explorer or a diagram

Capsule-based structural Modeling

Ports

All UML-RT port types supported

Capsule parts

All UML-RT part types supported

Connectors

UML-RT connectors aligned with UML types

Layout

Automated port and part layout

Protocols

Multi-parameter protocol messages

New table-base protocol editor

Structure Collaborative modeling

Ability to compare and merge native Papyrus-RT DSL structures

State Machines (basic groundwork - to be completed in v0.9)

Layout improvements
Basic hierarchical state machine (to be completed in v0.9)
Enhanced trigger selection dialog
Ability to edit C++ opaque behavior in a CDT editor

Language support

Basic model-level language support - assignment of a language, e.g., C++, a the model

Automatically adds imports to the required profiles and libraries

Support for C++

Language-specific code editor for C++ models using a CDT view
C++ Property sets
C++ Code generation
C++ Runtime

Basic runtime-based tracing and information output
Enhanced cmake-based builds

Platform support

Linux
Preliminary Windows/Cygwin support (to be completed in subsequent releases)
Preliminary MacOS support (to be completed in subsequent releases)

From Papyrus
Bugs Fixed
185 bugs were fixed as part of this release! The complete list can be found by following this link: Papyrus-RT v0.8 Bugs