Higgins Browser Extension for Firefox Installation
{{#eclipseproject:technology.higgins|eclipse_custom_style.css}}

Note: This Firefox extension assumes that you have installed Higgins Selector Switch or one of the Higgins Selectors (RCP Selector, AIR Client and Server or GTK and Cocoa Selector)
1. Start Firefox
2. Uninstall or disable other Firefox extensions that handle information card mime type from Tools -> Add-ons menu
3. From within Firefox, click Download Higgins Connector XPI and wait for the "Opening higginsconnector.xpi" dialog.
Save it on your hard drive. After that you can open it from Firefox (File > Open File... > higginsconnector.xpi) or drag and drop higginsconnector.xpi on top of any Firefox browser window.
Warning 1: We are not allowed to add Javascript to Eclipse pages, so this download process is buggier than it would be on any REAL download page
Warning 2: If you have Winzip installed, you may not see the dialog box. Instead you may only see the option to download a .zip file (higginsconnector.zip). If so download this file and manually rename it to higginsconnector.xpi.
4. When you install add-on you should see standard dialog.
5. Click on "Install Now".
6. Restart Firefox. Remember to close ALL of your Firefox windows if you have more than one. Firefox 2.x and beyond will restore whatever open tabs you had in your session.
7. When Firefox restarts, make sure "Higgins Connector" extension is installed by clicking Tools -> Add-ons.
8. By default Higgins Browser Extension for Firefox uses Higgins Selector Switch connection option to launch external Selector. You can change this option by clicking Tools -> Add-ons -> Options (Win) or Preferences (Mac/Linux).
Select one of the available connection options from the drop-down. The options are: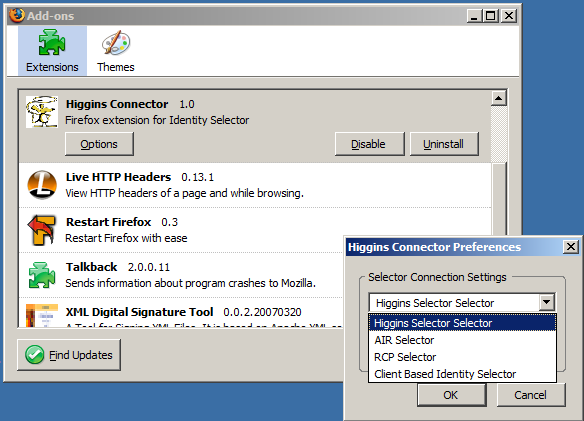 See Also