Eclipse DemoCamps Juno 2012/Krakow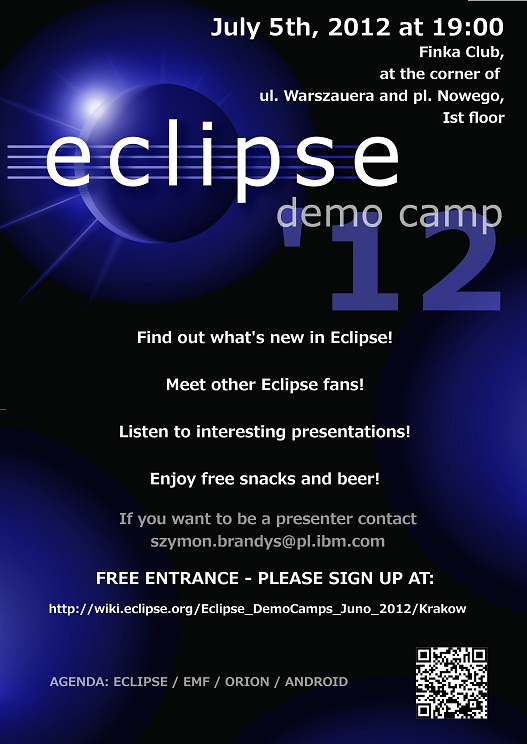 After DemoCamp
I would like to thank all presenters and participants for coming. All credits go to you for the pleasant atmosphere of the meeting. Hope to see you soon.

Visit also Eclipse w Polsce FaceBook page. Find there galleries from other EDC events as well as useful information about Eclipse in Poland.
Location
Finka Club
at the corner of ul. Warszauera and pl. Nowy, 1st floor
Date and Time
July 5, 2012
starts at 19:00
Sponsors
This Eclipse DemoCamp will be sponsored by
If your company is willing to co-sponsor this event, please contact Szymon Brandys.
Organizers
Agenda
If you would like to present at the DemoCamp, please feel free to add your name and topic to the list. Depending on the number of people interested we may have to change the tentative agenda, i.e. limit the number of presenters and time of each demo.
What is new in Eclipse 3.8/4.2
Tworzenie aplikacji na system Android z użyciem Eclipse, Tomasz Janczarski
What is new in Orion 0.5
Integracja OpenShift & Eclipse - szybki skok w chmury, Krzysztof Daniel, Red Hat
Data driven user interfaces with Eclipse Forms, EMF and Data Binding, Marcin Lewandowski, IBM Polska
If you have any trouble with the wiki, just send an email to Szymon.
Contest
Mug4bug is an exciting contest to fix a bug or provide a simple feature in Eclipse. Since bugzilla is full of bugs we decided to narrow the list to issues that are not trivial but not too hard to tackle at the same time. All of them are valid issues and we would be very happy to have them all fixed.
The Prizes will be handed to winners during the event.
You've got 3 weeks. Are you up to the challenge?
Who Is Attending
If you plan on attending please add your name to the list below or register here. We'd like to see as many people show up as possible.
If you have any trouble with the wiki, just send an email to Szymon.
Last sync at Jul 5, 16:30
Bendkowski Maciej
Bialy Artur
Borek Tomasz
Bołoz Dawid
Brandys Szymon, Eclipse Platform and Orion, IBM
Chrobak Hubert
Dadel Przemysław
Dec Adam
Dymczyk Mateusz
Englert Paweł
Fibinger Jakub
Flisiak Gosia
Gołdynia Marcin
Grudzien Pawel
Grzesiak Jakub
Illukowicz Jakub
Janczarska Małgorzata, Eclipse Platform and Orion, IBM
Jędrychowski Łukasz
Jurczak Przemek
Jurkiewicz Maciej
Karmazyn Małgorzata
Kasprzycki Tomasz
Kiebzak Szymon
Kiraga Piotr
Kolecki Rafał
Koprowski Przemysław
Kordeusz Wojciech
Koza Joanna
Kuduk Kamil
Kurdziel Grzegorz
Lekstan Kacper
Leśniak Łukasz
Lewandowski Marcin
Major Zbigniew
Maliszczak Sebastian
Michalak Artur
Michalski Krzysztof
Michura Dariusz
Nelken Jan
Pogorzelski Pawel
Prochera Marek
Ptaszkiewicz Szymon
Sinczak Damian
Siwik Rafał
Stanek Mirosław
Stępień Marcin
Stolarski Adrian
Stronczak Dawid
Szczurek Mateusz
Szymański Wojciech
Targosz Maciej
Tkacz Michał
Urbaś Radek
Wąchol Rafał
Wąs Robert
Węgrzyński Paweł
Wielgus Jan
Wiencek Krzysztof
Wilk Krzysztof
wrobel jan
Żarna Tomasz, Eclipse Platform and JDT, IBM
Żurek Jakub
Łączkowski Bartłomiej
Łakomy Marek
Łosiński Sebastian

See the page of the previous EDC event.