Papyrus/Mars Work Description/Improvments/Quick Formatting Toolbar
Initial Context
Papyrus provides an initial toolbar to edit labels allowing bold, color change etc… The purpose of the quick formatting addon is to provide a sub tool bar to allow manipulating quickly the text format.
Proposition
The quick formatting menu should enable to edit quick the label of selected items:
-uppercase
-lower case
-add uppercase at the beginning of sentence
- First letter in uppercase
-switch case.
The design of the add-on could be the following: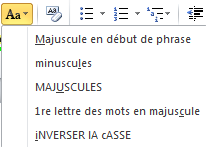 Pay attention to
This functionality should work for items selected in the selected diagrams (node, edge) or for items selected in the model view (node,edge, diagrams). It should work on single or multiple selected elements. The undo feature should be enabled.
References
- Bugzilla: https://bugs.eclipse.org/bugs/show_bug.cgi?id=461734
- Gerrit
- Youtube video