Papyrus/Mars Work Description/Improvments/Create Relationship in Model Explorer
Create relationships in model explorer
The model explorer has a customizable menu explorer to create new elements in the model. However, this menu allows to create only "node" elements, e.g. elements that are not relationship. The goal of this improvement is to allow the creation of relationships inside the model explorer.
The purpose of this enhancenment is to make it possible to easily create directed relationships in the model explorer.
Relationships are created by right clicking the element to use as source. In the context menu (under a 'New Relationship' sub menu) only the relationships that can have the selected element as source should be listed.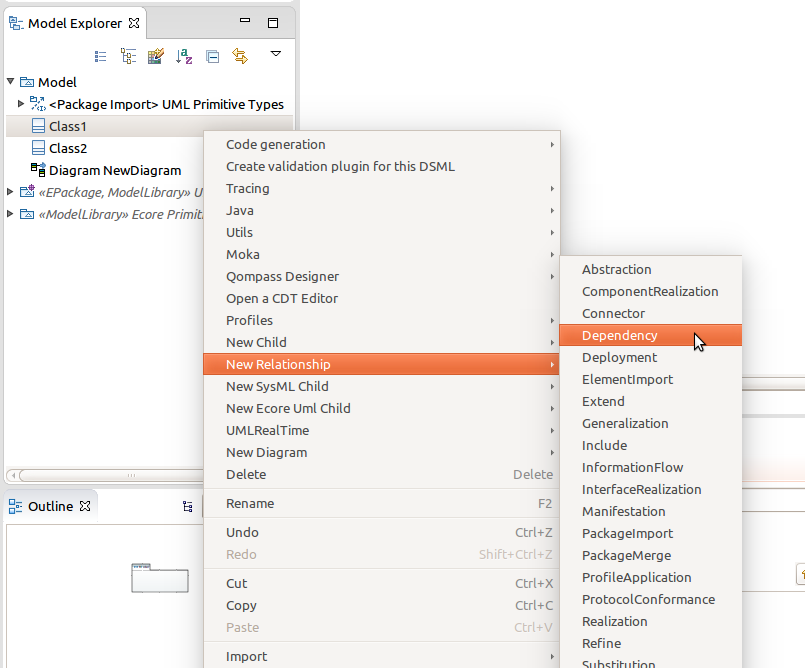 When one of the relationship are selected a dialog is displayed showing the possible targets to set. Only elements that can be set as target for the selected relationship should be displayed.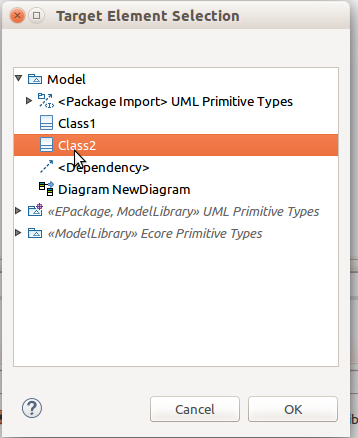 The result is a relationship with the element selected in the model explorer as source and the selected target element as target. Note, that if the element selected in the model explorer cannot be the container for the relationship a new container is calculated. In the example below the parent package (the Model element) is the container since dependencies cannot be contained in a class.

Bugzilla
The main bugzilla item tracking progress of this feature is