Orion/How Tos/Client How Tos
Render file tree table inside an html DIV
This scenario describes how to render all the existing workspaces from server side as a tree table inside a given div in a html. It renders all the workspaces as the top level rows and corresponding actions on each row. When user toggles on the row , it expand/collapse the children contents on that row. A combination of Orion/Client API are used in the scenario.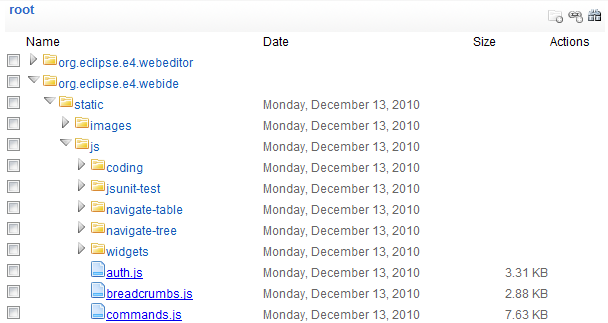 Register services
Define a DIV with id in the html where the tree table wil be rendered.
In the html loading js file , create the Service Registry.
Register the FileService in the registry. This service loads all the workspaces as the initial top level nodes in the table tree. It also provides children content on any node of the tree.
Register the CommandService in the registry. This service manages all the commands used for user actions.
Create Command and add commands to CommandService.
var registry = new eclipse.Registry(); 
registry.registerLocalService("IFileService", "FileService", new eclipse.FileService());
var commandService = new eclipse.CommandService(registry);
registry.registerLocalService("ICommandService", "CommandService", commandService);
var commandOptions = new Object();
commandOptions.id = "favoriteCommand";
var favoriteCommand = new eclipse.Command(commandOptions);
commandService.addCommand(favoriteCommand, "object");



Model Creation
Create an instance of the model class to provide the tree model , the model has to implement the following functions required by TableTree.

getRoot(onItem).
getChildren(parentItem, onComplete) . It uses the FileService.getChildren to provide childen items.
getId(item)
Renderer Creation
Create an instance of the renderer class to render table rows (refer to Table Tree)

Implement check box rendering
Implement table-row based actions
Implement folder toggles by calling TableTree.toggle.
TableTree Creation
Create an instance of Table Tree
In the onLoad of the html , use a wrapper class instance to wrap the Table Tree and initialize the table.
Render a file selection and auto expand
Describes how to render a file selection from persisted preference.