Ganymede Provisioning Workshop
Eclipse has long had Update Manager as its provisioning mechanism. Now over five years old, Update Manager comes from the era that predates OSGi, where Eclipse was a static tooling platform, Eclipse as a Rich Client Platform had not evolved, and where we could get away with assuming considerable computer skills in our users.
This workshop brings together committers from interested parties to evaluate current provisioning initiatives, project shared ongoing needs, and sketch an efficient and practical roadmap that leads to quality enabling solutions to provisioning problems.

Check out photos from the workshop
Some more photos from the workshop
Dates
The workshop will meet for two full days, April 10th and 11th, 2007.
All participants are expected to say overnight the night of the 10th. We expect some travelers will want to say the night of the 9th and/or the 11th.
Location
The event will be held at the Fairmont Le Château Montebello Hotel. The location is about an hour and a half drive from either Ottawa or Montreal. We've chosen this venue for the relaxed and somewhat isolated environment where attendees can focus their full attention on workshop business.
This will be off-season at this resort hotel so we can expect a not-too-crowded environment indoors. Outside conditions could vary from late winter snowfall (beautiful) to early spring mud (less beautiful).
You are responsible for your own room registration using a discount code we will provide. See Registration below.
Goals
Overall this workshop seeks alignment and coordination between existing projects, committers and member companies with an eye to addressing the provisioning needs of Eclipse developers and users. More precisely we set out to:
Develop a shared problem understanding and lexicon to foster future collaboration (see GPW Lexicon)
Define and set out the requirements for basic provisioning support
Explore the requirements for more advanced provisioning support
Identify key problems in the current Update Manager (and other systems) that must not be repeated
Identify key features in the current Update Manager (and other systems) that must be retained
Identify relevant standards and protocols and establish focal points for those technologies
Coalesce the community around a vision for the next generation of provisioning support in Eclipse
The workshop investigation and output should be both broad and deep while still having an significant impact in the Ganymede (post Europa) timeframe. Note, however, all work products will be considered advisory to the greater Eclipse community where all final decision making will take place.
Attendance
This is not a meeting for managers or observers, it's a workshop for do-ers - people who have code or real-world experience to contribute or can provide other substantial information that furthers the goals of the workshop. The workshop will be conducted in English.
In an effort to ensure maximum communication opportunities, the overall number of attendees will be limited to around 25. We suggest representation at the workshop be distributed as follows:
We invite one or two people from existing or proposed Eclipse projects focusing on some aspect of provisioning. Please descscribe your role on the project.
We invite one person from existing Eclipse projects. We are especially interested in people who can explain difficult provisioning problems their projects have been experiencing. Please describe the nature of the problem and (optionally) specific ideas for its solution. We ask that you coordinate with others on your project and let us know who will be attending on a space-available basis (see below).
We invite outside expertise in provisioning. If you have such expertise and are willing to help Eclipse, please tell us what you have to offer. If you know of someone we should contact, please pass that information on also and tell us how their expertice relates to our provisioning.
We invite all interested parties to apply for remaining space available. Please tell us the nature of your interest.
Fun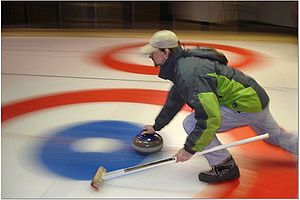 We have taken the liberty of arranging a casual group recreational activity: curling. Curling is the Olympic sport made famous by the movie Men With Brooms. We have two sheets reserved Tuesday evening with 20 minutes of professional insruction at 7:30 pm.
You will want to have warm clothes and casual shoes, such as running shoes, for this event.
How to register
You will need to register in two places, once with the Eclipse Foundation, and then with the hotel.
Email Anne Jacko to register with the foundation. Please tell her your full name, email and phone numbers, and which projects you will be representing.
You may register online with the hotel, using this link that contains the registration code. If you prefer to call the hotel to register, just say you are attending the Eclipse Foundation event. Please let Anne know when you have registered for the hotel. Please note that the hotel has a 72-hour cancellation policy. If you cancel your room reservation within 72 hours of your expected arrival date, you will be charged for one night's lodging.
We will provide contental breakfast in our meeting room (Quebec Room) and buffet lunch in the dinning room (Aux Chantignoles). Please advise Anne if you have special food requirements.
Attending
If you have an interest in attending, whether you have registered or not, you are welcome to list yourself and the nature of your interest below.
your name and interest info here
Markus Knauer -- EPP Project. EPP will be able to provide initial packages combined with an installer.
Dave Stevenson -- representing the IBM Installation Manager for Rational 7.0 and other IBM developer products. I get into Ottawa airport ~9:30 Monday night, driving (hopefully not too much snow) to Montobello by midnight; back to Ottawa on Thursday morning.
Denis Roy -- Foundation IT manager. Update Manager has a significant impact on IT/server infrastructure. I can provide insight in this area.
Tim Webb -- representing the Maya proposed project
Dennis Vaughn -- representing Maya
Sharanya Doddapaneni -- representing Maya
Andrew Overholt -- representing Linux Distros. I want to make this work with existing Linux provisioning mechanisms. Arriving Monday evening (driving from Cornwall), departing Wednesday evening.
James Miles -- IBM Expeditor
Stefan Liebig -- compeople. I want to share our experience and code of our framework for building sales representatives applications. I arrive at Montreal on Monday at 12:30, pick up a rental car and drive than to Montobello (~2 hours). Back to Montreal on Thursady.
Elias Volanakis -- Innoopract. Arriving Saturday night; leaving Friday morning.
Peter Manahan -- IBM Installation Manager
Scott Lewis -- ECF Project. ECF can help with the pluggable transports requirements associated with provisioning effort.
John Arthorne -- Eclipse Platform committer currently working on Equinox provisioning incubator. Arriving Monday evening (driving from Ottawa), departing Wednesday evening.
Pascal Rapicault -- Equinox provisioning incubator. Arriving monday night
Mitch Sonies -- representing Buckminster Project, Spaces Proposal
Filip Hrbek -- representing Buckminster Project, Spaces Proposal. Arriving Monday evening, leaving Saturday or later.
Committee
Program email
Operations email
Agenda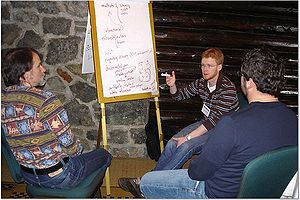 The workshop will alternate between plenary and breakout sessions. Attendees will collectively select breakout topics in the plenary sessions, tangibly contribute in self-assigned breakouts, and then reconvene to summarize results for the whole.
Breakout groups will be expected to quickly identify issues, review likely solutions, and recommend actions. Each group will draft written conclusions in this wiki that will be the basis of their report in the following plenary.
This is the agenda we used for the build workshop. We will adjust this to meet the needs of this workshop as they surface.
Day One
8:00 Continental Breakfast
9:00 Call to Order
(30 min) Introduction to the workshop, its roots in Europa, and a vision for its most valuable contribution to Ganymede. -- Ward Cunningham, Jeff McAffer and Tim Webb
(60 min) Lightning retrospectives presenting current systems, best practices, pain points and wish lists. We recommend these be presented from notes prepared in this wiki here: GPW Lightning Retrospectives. -- All Attendees
(15 min) Snack and email break
(60 min) Lighting retrospectives continued.
(30 min) Topic brainstorm and first cut prioritization. We will use some variation of "cast each of five votes on most important topics". Although topics will probably not be surprising, attendees will begin choosing how to apply their efforts the remainder of the day.
(60 min) Lunch and email break.
(60 min) Second breakout meeting
(15 min) Coffee break, email and wiki writing break
(30 min) Second summary reports and discussion
At this point we will break before assembling for dinner. We expect attendees to enjoy the site facilities before and after dinner. However, we hope that the issues of the day and the opportunities for tomorrow will be frequent topics of conversation.
Evening
We invite attendees to participate in an experimental design technique which we will call Pod Programming. We will take one or two problems from the day's sessions and talk through programming them using CRC-Card techniques. We will pay particular attention to fitting into the design style and coding patterns employed in Eclipse. This will be recorded, indexed, and released under the EPL license. The resulting podcasts will serve as both concrete implementation hints and more abstract insight into the thought processes of our best authors.
(45 min) Pod Programming session I
(15 min) Break
(45 min) Pod Programming session II
Day Two
7:30 Continental Breakfast
8:30 Call to Order
(30 min) Reconvene, overnight reflection. -- Ward Cunningham
(60 min) Third breakout meeting
(15 min) Snack, email and wiki writing break
(30 min) Third summary reports and discussion
(60 min) Fourth breakout meeting
(15 min) Snack, email and wiki writing break
(30 min) Fourth summary reports and discussion
(60 min) Lunch and email break
(60 min) Fifth breakout meeting
(15 min) Snack, email and wiki writing break
(30 min) Fifth summary reports and discussion
(90 min) Consolidation, assessment and call to action.
At this point the formal workshop will be over. We expect eastbound attendees to stay over for early morning flights.
Related Resources
Needs
Efforts
Breakout Results
See Ganymede_Provisioning_Workshop_Breakout_Results