Eclipse MDD Day

Eclipse Enterprise Modeling Day
Eclipse Enterprise Modeling Day is for IT architects and IT strategists who are exploring a model driven development approach for their enterprise application development.
Many enterprises are already using modeling to streamline their application development. The sessions will explore how enterprises, such as UBS and Bosch have used Eclipse technology to implement a modeling strategy. Eclipse modeling experts will also provide a review of the core Eclipse modeling technology that enables key enterprise modeling features, including data modeling, graphical modeling, model repositories and textual modeling. Finally, a presentation on the Eclipse Modeling Platform will show how an integrated Eclipse-based platform can provide the flexibility and extensibility required for large-scale enterprise model driven development.
The event is open to all IT architects and IT strategist interested in modeling for enterprise development. There is no cost to attend the event but you must have pre-registered by sending your name, title and company name to eclipse_mdd@eclipse.org Note: Registration is full and is now closed.

Thursday, October 28, 2010
12:30 - 18:00

UBS AG
Max-Höggerstrasse 80 (VZA2)
CH-8048 Zürich-Altstetten
Switzerland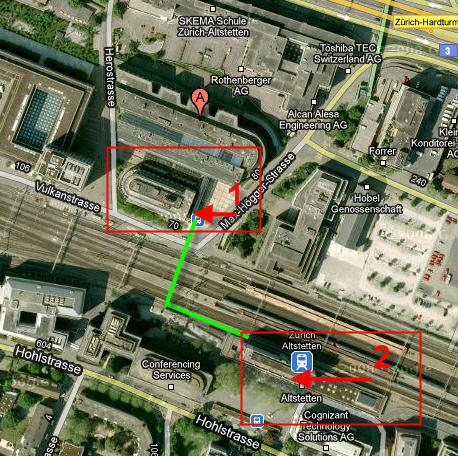 UBS Building - Welcome desk for registration at entry
Railway station Zürich-Altstetten
Supporters
Thanks to UBS and itemis for supporting this event.
Presentation Slides
Agenda
Attendee Registration
Registration is full and is now closed.
Attendees
Ian Skerrett, Director of Marketing, Eclipse Foundation
Dr. Martin Mandischer, itemis
Stephan Eberle, Geensys
Ed Merks, itemis & EMF Project Lead
Christian Meier, WM&SB CTO - Application Architecture, UBS AG
Robert Blust, Tooling Strategy, UBS AG
Wolfgang Neuhaus, Member of the Board, itemis
Serano Colameo, CEO & Co-Founder, itemis Switzerland
Richard Mazzola, Associate Director, UBS AG
Amos Mastel, Associate Director, UBS AG
Adrian Glutz, Associate Director, UBS AG
Christian Kreutzer-Beck, Software Engineer and IT Consultant, itemis Switzerland
Robert Bennek, IT Architecture, Credit Suisse
Sven Efftinge, itemis & TMF/xtext Project Lead
Eike Stepper, CDO Project Lead
Lars Geyer-Blaumeiser, Robert Bosch
Adrian Tschannen, PostFinance
Knut Wannheden, Paranor AG
Philippe de Valliere, Managing Director, Sofismo
Max Räz, Paranor AG
Christoph Frutiger, Credit Suisse
Richard Wood, IT Architect, Credit Suisse
Milan Ignjatovic, Software Engineering Consultant, ProSoftwarica
Tarmo Ploom, Integration Architect, Credit Suisse
Michel Ott, Advisory Consultant, IBM Switzerland
Marco Ciolini, Software Engineer, AdNovum Informatik AG
Holger Pieper, IT Architect, UBS AG
Reto Fanhauser, Architect, ELCA Informatik AG
Andrew Clark, Consultant Sofware Engineer, Paranor AG
Wolfgang Boos, Manager Embedded Software Development, Mettler-Toledo AG
Oliver Ruf, SOA & Integration Lead, Swiss Mobilar
Michael Vorburger, Development Manager, Odyssey Financial Technologies
Earl Waldin, Paranor AG
Birgitta Bockeler, Software Architect, Accenture GmbH
Dr. Dragan Milic, IT Architect, Swiss Mobilar
Michael Rauch, IT Architect, Swiss Mobilar
Michael Steiner, Software Engineer, Avaloq Evolution AG
Stephan Sigrist, CTO, Diligent IT Solutions
Fritz Müller, Business Dev. Manager, Diligent IT Solutions
Sandro Stanziani, Developer, Diligent IT Solutions
Mario Luca Bernardi, Associate Researcher, University of Sannio
Roland Heeb, Information Security Officer, Bank Julius Baer & Co Ltd.
Dominik Stupan, Developer, SER
Gregor Gisler-Merz, BA, Credit Suisse
Eric M. Schimansky, Advanced Project Engineering, UBS AG
Patrik Suzzi, Make-IT / CSE
Norbert Moegerle, RWE IT GmbH
Thomas Kerle, Software Engineer, Haslerrail AG
Laurent Muller, Software Engineer, Haslerrail AG
Pascal Rudin, Lead Developer, UBS AG
Martin Schnyder, Software Engineer, UBS AG
Patrick Huber, Systems Engineer, Siemens IT Solutions and Services
Peter Naef, Software Developer, Sputnik Engineering AG
Benjamin Ginsberg, Software Developer, Independent Consultant
Roger Gretener, Software Engineer
Andreas Hollenstein, IT Architect, UBS AG
Pino Rovetto, AXA
Johan Wannheden, Software Engineer, Paranor AG
Dr. Philipp W. Kutter, CEO, Montages AG
Martin Schlatter Villiger, COO, Montages AG
Marc Moser, CTO, Montages AG
Pascal Walz, Senior Business Consultant, Montages AG
Massimilliano Zattera, Senior Software Engineer, Montages AG
Reto Weiss, Paranor AG
Manfred Sproll, Software Engineer, Cross-Works AG
Markus Kessler, IT Architect, UBS AG
Michael Mahler, Software Architect, Dun & Bradstreet
Stefan Keidel, Business and Application Architect, UBS AG
Patrick Hofer, Software Engineer, nanoTRONIC GmbH
Michael Wenz, SAP
Christophe Ponsard, R&D Manager, CETIC
Lars Kopp, Enterprise IT Architect, ZFS
Aaron Digulla, Senior Java Developer, AVANON AG
Nico Heinz, ZFS
Samaimai Spörri, ZFS
Markus Meier, Team Leader SC Software Engineering, Schweizerische Bundesbahnen SBB Informatik
Holger Schill, itemis
Thomas Ammann, Software Engineer, Inventage AG
Edwin Steiner, Software Engineer, Inventage AG
Danilo Tommasina, CTO, AVANON AG
Rachid Elalaoui, Product Manager, AVANON AG
Rainer Matthias Lang, Managing Partner, Frontwerks AG
Urs Künzler, IT Architect, UBS AG
Marc Alvarez, Software Developer, UBS AG
Florian Wientzek, Associate Director, UBS AG
Qun Lou, UBS AG
René Mas, Credit Suisse
Ksenia Wahler, IT Architect, Credit Suisse
Michael Wahler, Scientist, ABB Schweiz AG
Christof Hasse, WM&SB CTO - Application Architecture, UBS AG
Parviz Moshfegh, Head of Client/Server Application Development Collective Lif, Allianz Suisse
Martin Weiss, Martin Weiss Informatik AG
Andrej Thiele, Senior IT Consultant, itemis
Laura Voicu, IT Architect, Credit Suisse
Peter Brunner, Cirquent GmbH
Alexander Klimuk, Software Architect, SaM Solutions GmbH
Ettore Ferranti, Scientist, ABB Schweiz AG
Olaf Grönemann, Software Engineer, Credit Suisse
Marco Bontognali, Dozent Software Engineering, ABB Technikerschule
Ralph Müller, Director of the European Ecosystem, Eclipse Foundation
Gaël Blondelle, Obeo
Thorsten Walther, Solution Architect IAM, Credit Suisse
Daniel Meier, IT Architect, CBS Custom-Made Business Solutions
Marcel Brünisholz, Associate Director, UBS AG
Gerd Berger, Associate Director, UBS AG
Markus Breitinger, Freelancer
Michael Engler, IT Architect / Collective Life, Allianz Suisse
Andreas Lux, eXXcellent solutions
Daniel Peter, IT Architect, UBS AG
Marc Schlienger, innoQ Schweiz GmbH
Marcus Rimmer, GTIS Consultant, UBS AG
JM Vanhalle, IT Architect, Nowendo
François Braun, Development Director, Synlogic
Ernst Lebsanft, CEO, Synlogic
Erich Rueede, WM&SB CTO - Technical Architecture, UBS AG
Michael Spranger, Software Developer, ARC Solutions GmbH
David Hein, Software Developer, ARC Solutions GmbH
***REGISTRATION IS NOW CLOSED***