Eclipse DemoCamps November 2013/Prague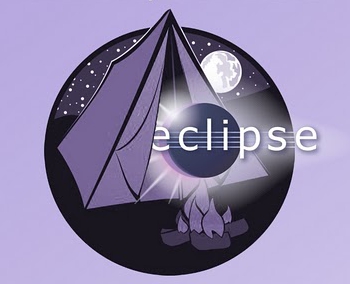 Eclipse DemoCamp je příležitost ukázat všechny úžasné a zajímavé technologie vyvinuté v Eclipse komunitě. Také je to příležitost setkat se dalšími Eclipse fanoušky. Událost je to neformální. Návštěvníci a přednášející ukazují co dělají s Eclipse. Může to být ukázka výzkumných projektů, použití open source projektů Eclipse, aplikací založených na Eclipse atd.
// DemoCamps are an opportunity to showcase all of the cool and interesting technology being built by the Eclipse community. They are also an opportunity for you to meet Eclipse enthusiasts in your city. The format of a DemoCamp is informal. A group of Eclipse enthusiasts meets up and demos what they are doing with Eclipse. The demos can be from research projects, Eclipse open source projects, applications based on Eclipse, commercial products using Eclipse or whatever may be of interest to the attendees.
Sledujte náš web http://eclipseczech.cz/ nebo Twitter, Google+, Facebook
Datum a čas // Date and Time
čtvrtek 14. listopadu 17:45 - 21:00 hodin.
// Thursday 14th November 5:45 pm - 9:00 pm.
Umístění // Location
GPS: 50°6'10.451"N, 14°23'30.019"E (longLat: 50.1029213, 14.3916903)
Technická 4, Praha 6 Dejvice (budova Fakulty strojní ČVUT) (mapa)
Nejsnáze metrem: konečná stanice metra A Dejvická. Z Vítězného náměstí ("kulaťáku") jdete do areálu ČVUT. Po pravé straně narazíte na budovu strojní fakulty. Ve vstupní hale a u vrátného se dozvíte, kam jít dál.
// Technická 4, Praha 6 Dejvice (Faculty of Mechanical Engineering bulding in ČVUT campus) (map)
Easiest to get on the place by subway (metro) A-line. Get off at terminal stop "Dejvicka" and look for CVUT (Czech Technical University in Prague) university campus. DemoCamp take place in building of Faculty of Mechanical Engineering which will be on your right side.
Program
17:45 - 18:00
Začátek, uvítání
18:00 - 18:30

Eclipse jako platforma pro hromadné generování dokumentů

Tomáš Bucki (Pro Document Services s.r.o.), solution architect

Ukázka tvorby pluginu do jejího workflow za použití OSGi. Představení platformy SCRIPTURA ENGAGE (ukázka obrazovek, stručný popis k čemu slouží SCRIPTURA, puštění jejího dema). Ukázka SCRIPTURA ENGAGE workflow. Ukázka tvorby jednoduchého pluginu do workflow. Shrnutí přínosů, které mělo/má použití Eclipse platformy jako základ SCRIPTURA ENGAGE.

18:30 - 19:00

Ahoj, Eclipse E4! -- co přínáší nová generace Eclipse 4 RCP

Libor Jelínek (Virtage Software)

"Dejte mi půlhodiny a já vám dám půl aplikace" neboli co všechno stihnete v E4 za půl hodiny vývoje. Ukázka bude demonstrovat některé novinky platformy E4 pro vývoj RCP desktopové aplikací i plug-inů.

19:00 - 19:30
přestávka na občerstvení
19:30 - 20:00

Síla plug-inů - rozšiřování Eclipse aplikací

Jan Krejcárek (Raiffeisenbank a.s), IT specialista

Když máte ve firmě komerční aplikaci postavenou na Eclipse, nemá cenu odolávat a nerozšířit její možnosti. Podívejte se, jak Eclipse pomáhá stovkám neprogramátorů.

20:00 - 20:30

Proč a jak používáme Eclipse IDE -- případová studie v software house

Miloš Zubal (Unicorn Systems), software architect

Unicorn Systems využívá Eclipse jako primární vývojový nástroj pro většinu projektů založených (nejen) na Javě. V rámci přednášky představíme, jak (v jakých variantách, s jakými pluginy) Eclipse využíváme, jakým způsobem ji rozšiřujeme a jak jsme s ní spokojeni.

20:45 - ...
party, socialiazing, networking... :-)
Sponzoři // Sponsors
Tento Eclipse DemoCamp bude sponzorovat // This Eclipse DemoCamp will be sponsored by
Virtage Software.
Profesionální služby, podpora, konzultace a školení Eclipse IDE, RCP, RAP, OSGi, Jetty, Linux. // Professional services and trainings for Eclipse.

Ústav přístrojové a řidicí techniky (Odbor automatického řízení a informatiky), Fakulta strojní, ČVUT v Praze // Department of Instrumentation and Control Engineering (Division of Automatic Control and Engineering Informatics), FME, Czech Technical University in Prague.

Vaše logo//Your logo

Uvídáme jakoukoli pomoc! Napište na libor@eclipseczech.cz. // If your company is willing to co-sponsor this event, please contact libor@eclipseczech.cz.
Organizátor // Organizer
Libor Jelínek (Eclipse User Group Česko)
libor@eclipseczech.cz
http://devblog.virtage.com/libor-jelinek/
http://twitter.com/liborjelinek
Dřívejší akce // Past DemoCamps