Eclipse DemoCamps November 2013/Kassel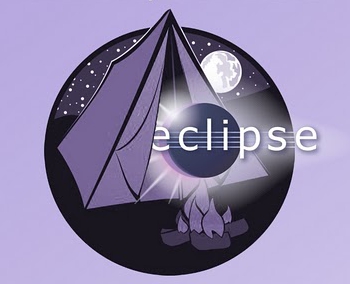 What is an Eclipse DemoCamp?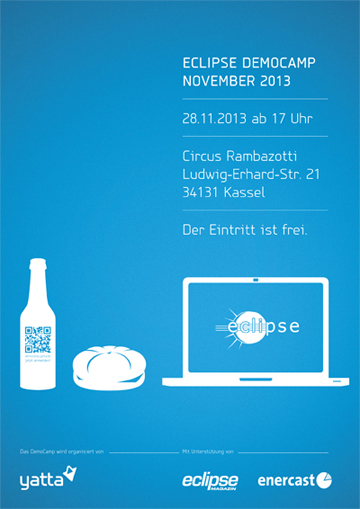 Location
Circus Rambazotti, Ludwig-Erhard-Str. 21, 34131 Kassel
LatLong: 51.30542, 9.44223
If you travel by train and arrive at the ICE Bahnhof Kassel-Willhelmshöhe, take the Tram 4 and exit at "Marbachshöhe".
Date and Time
Thursday, November 28th, 2013, opening 17:00
Sponsors
This Eclipse DemoCamp is sponsored by Yatta Solutions GmbH & enercast GmbH
Mediapartners
Software & Support Media GmbH is supporting the Eclipse DemoCamp Software & Support Media GmbH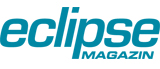 Organizer
Manuel Bork, Yatta Solutions
Agenda
17:00 Meet & Greet
17:25 Welcome & Opening: Johannes Jacop, Thomas Landgraf, Ralph Müller
17:30 Testautomatisierung von Webanwendungen - Wenn sich der Browser von Geisterhand bewegt - Frederic Ebelshäuser, Yatta Solutions
18:00 M4M 2 the Rescue of M2M - Werner Keil, Creative Arts & Technologies
18:30 Break: Snacks
19:00 Devops@Runtime mit MoSKito - Leon Rosenberg
20:00 Geselliges Beisammensein bei Glühwein und Snacks :)
Presenters / Call for Demos
If you would like to present at this event, please add your proposal here. Depending on the number of submitted demos, we may have to limit the number of presented demos.
Who Is Attending
If you plan on attending please add your name and company to the list below. If you have any trouble with the wiki, just send an email to Manuel Bork.
Ralph Mueller, Eclipse Foundation
Jelena Alter, Eclipse Foundation
Thomas Lahmer
Jens Schreiber
Martin Atzmüller
Dmitrij Funkner
Olaf Gunkel
Andreas Koch Universität Kassel & Yatta Solutions
Matthias Schmidt
Gabriel Weltermann
Enno Boland
Ingo Witzky
Frank Tönnies
Florian Heerdegen
Ruben Jubeh, enercast GmbH
Arkadius Roczniewski
Jan Bräutigam
Christof Lorenz, GWAVA
Carsten Reckord, Yatta Solutions
Dr. Leif Geiger, Yatta Solutions
Frederic Ebelshäuser, Yatta Solutions
Bernd Kratz, enercast GmbH
Jürgen Kral, OctaVIA AG
Sebastian Sindelar
Jens Siebert, B.Braun Melsungen AG
Kai Weinmeister
Michael Sieber, IBH Datentechnik GmbH
Leon Rosenberg
Alexander Jahl
Sergej Michel
Albert Zündorf, Universität Kassel
Nils Bauer, Universität Kassel
Alexander Jahl, Universität Kassel
Albert Zündorf, Universität Kassel
Klaus Simon, Yatta Solutions
Janosch Henze, B.Braun Melsungen AG
Miran Alic, B.Braun Melsungen AG
Thomas Hauck
Stefan Karge, Fraunhofer IWES
Past DemoCamps in Kassel
Eclipse DemoCamp Kepler 2013
Eclipse DemoCamp November 2012
Eclipse DemoCamp Juno 2012
Eclipse DemoCamp November 2011
Eclipse DemoCamp Indigo 2011
Eclipse DemoCamp November 2010