Eclipse DemoCamps Neon 2016/Poznan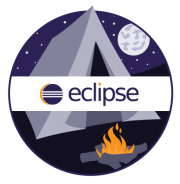 What is an Eclipse DemoCamp?
Location
Politechnika Poznańska, Biblioteka Techniczna, Sala L122
ul. Piotrowo 2
60-965 Poznań
Poland
Date and Time
June 9, 18:00 - 22:00
Registration
If you plan to attend, please register here.
Official webpage
Sponsors
Organizer
If you have any questions regarding the DemoCamp, don't hesitate to contact Szymon Ptaszkiewicz via email.
Agenda
| Time | Slot | Talk | Speaker |
| --- | --- | --- | --- |
| 18:00 - 18:15 | '15 | Meet and greet | Robert Wrembel |
| 18:15 - 18:40 | '25 | Od zera do committera, czyli moja przygoda z formatowaniem kodu w Eclipse | Mateusz Matela |
| 18:40 - 19:05 | '25 | Gruby klient - czy to na pewno przeszłość? | Michał Bocian |
| 19:05 - 19:30 | '25 | Co nowego w Eclipse Neon? | Szymon Ptaszkiewicz |
| 19:30 - 19:55 | '25 | Large-Scale Data Processing Using Apache Spark | Jacek Laskowski |
| 19:55 - 20:00 | '5 | Closing remarks | |
| 20:00 - ? | | After party in Piwna Stopa | |
Please note that all talks will be in Polish.
Presenters
Robert Wrembel
Deputy dean for business cooperation at Faculty of Computing, Poznan University of Technology. More info at http://www.cs.put.poznan.pl/rwrembel/.
Jacek Laskowski
Jacek Laskowski is an independent consultant who offers development and training services for Apache Spark (and Scala, sbt with a bit of Hadoop YARN, Apache Kafka, Apache Hive, Apache Mesos, Akka Actors/Stream/HTTP, and Docker). He leads Warsaw Scala Enthusiasts and Warsaw Spark meetups in Warsaw, Poland. Contact Jacek at jacek@japila.pl or follow him on twitter @jaceklaskowski to discuss Spark opportunities, e.g. courses, workshops, or other mentoring or development services.
Mateusz Matela
Z Eclipse związany głównie jako commiter w JDT pracujący nad formatterem kodu, wcześniej twórca narzędzia generującego metodę toString() oraz kontrybutor do projektu Zest. Zawodowo deweloper Java w PCSS, w zespole bibliotek cyfrowych.
Michał Bocian
Development Manager w firmie PSI Polska. Zawodowo zajęty przez rozwój systemów klasy MES. Hobbystycznie nauczyciel akademicki na Wydziale Matematyki i Informatyki UAM. Założyciel i trener w szkole programistów Java get2IT.
Szymon Ptaszkiewicz
Szymon pracuje nad środowiskiem Eclipse SDK od ponad sześciu lat, głównie przy projektach Eclipse Platform i Eclipse JDT. Obecnie mieszka w Poznaniu gdzie w ramach IBM Eclipse Support Center prowadzi zespół inżynierów wsparcia technicznego specjalizujący się we wsparciu technicznym produktów IBM opartych na platformie Eclipse i technologii Jazz. Szymon posiada status Eclipse committer'a i jest liderem projektu Eclipse Platform Resources.