Eclipse DemoCamps Luna 2014/Zurich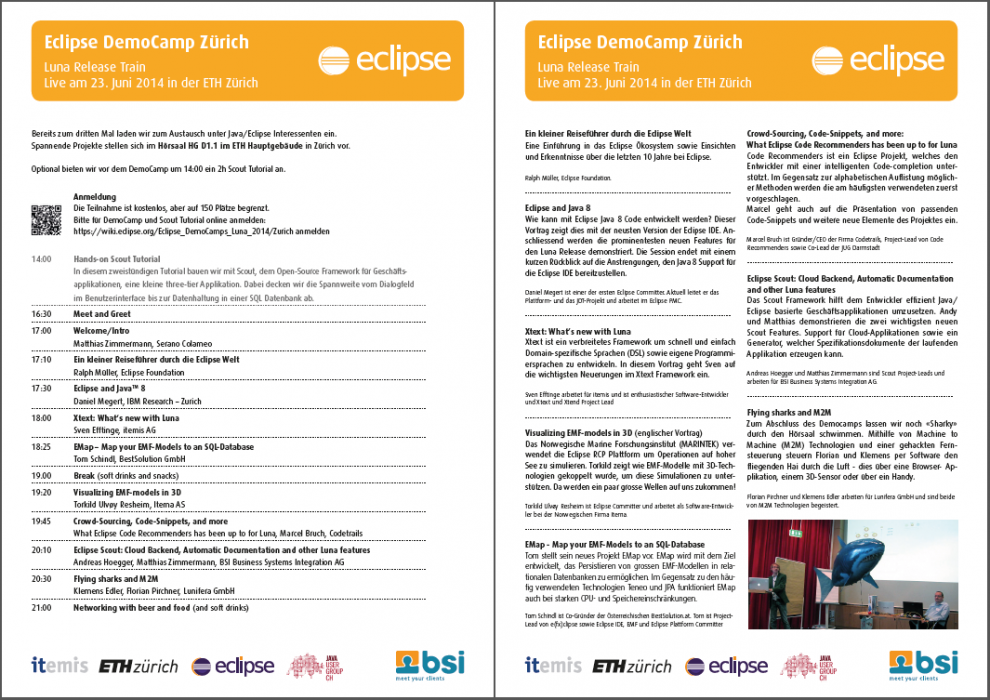 Engage in the Eclipse community this Summer at the Luna DemoCamp in Zurich. If you are interested in Eclipse Topics, this is the event to attend in Switzerland.
We have invited a list of top speakers to talk about their pet projects. The scheduled talks cover a wide variety of topics. Be prepared to hear the latest news on the Java 8 Support for Eclipse, the Xtext, 3D visualisation of EMF models, mapping of EMF models to SQL databases, Code Recommender, Scout, and last, but not least see a flying shark in the ETH lecture hall!
New: Democamp Flyer
We also created a flyer. To help spread the word, please print and post it to a prominent area in your organisation
Location
The demo camp will take place in the ETH lecture room HG D 1.1 located in the main building of the Swiss Federal Institute of Technology in Zurich. For details see
Date and Time
The DemoCamp Zurich will take place on Monday, June 23rd.
Agenda
---
16:30 - 17:00 Meet and Greet
---
---
18:50 - 19:20 Soft drinks and snacks (break)
---
---
21:00 - 22:00 Networking: Beer and food (and soft drinks)

Remarks
See here for the talk abstracts
Most talks will be held IN GERMAN
All times are Zurich local times
Pre - Democamp Option
Sponsors


BSI Business Systems Integration AG - Featured Link - Eclipse Scout

 

itemis Schweiz GmbH - Featured Link - Xtext



Java User Group Switzerland



Eclipse Foundation



ETH Zürich, Location Sponsor

If you - or your organisation - are interested in sponsoring, please contact: matthias dot zimmermann (at) bsiag dot com.
There are many opportunities: Beer, softdrinks, snacks ...
Organizer
Session Abstracts
Registration / Who Is Attending
If you plan to participate please register via eventbrite (link below) and indicate the options you're interested to participate in:
17:00 - 21:00 - Democamp
14:00 - 16:00 - Eclipse Scout Tutorial (optional add-on)
Register and see participants. Participation is free and seating is limited to 150 participants.
To be notified for future eclipse events (democamp, stammtisch, finance day) in zurich you can add the "Eclipse Community Zurich" on google plus.