EclipseInsuranceDayCologne
Eclipse Insurance Day in Cologne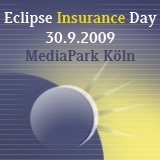 Insurance Day Website (german)

Insurance meets Eclipse - Symposium on Open Source based solutions for the insurance industry
The Eclipse Insurance Day is a one day event for members of the insurance industry, IT managers and software architects to find out more about how Open Source can provide solutions for the insurance industry. We'll have guest speakers from the industry, as well as from the Eclipse Foundation and companies providing solutions based on Eclipse Open Source technology.
This event features many networking opportunities where you can meet experts in person and exchange information and experiences with industry and Eclipse ecosystem colleages. Take the opportunity to find out how you can leverage Eclipse technology and ecosystem members as part of your development strategy.

You'll learn about:
Eclipse as a platform for application development in the insurance industry
Leveraging Eclipse modeling technology for data exchange
Cost reduction by collaboration with the Open Source community

Register today. Registration is free of charge but pre-registration is required.
Please note that the Eclipse Insurance Day program will be primarily in the German language with some talks held in English.



Date & Location
September 30th, 2009
10:00 am - 5:30 pm

Eclipse Insurance Day
Im MediaPark 6
50670 Cologne

Media Park
info@mediapark.de

Discounted parking is available. Please go to the bookstore on the main floor of Im Media Park 7. The tickets are valid for the central parking garage except for sections P4, P8 and P8a.



Attendee Registration
All attendees must pre-register for this event. There is no cost to register but space is limited, so we suggest you register early. To register, please send an e-mail to info@weiglewilczek.com or send us your registration by fax. Attendees must be an employee or contractor of the insurance industry, so please use your corporate e-mail address to send the registration request.



Agenda
Time
Technical Track
Business Track
10:00 - 10:45
Keynote
(Mike Milinkovich, Executive Director, Eclipse Foundation)
Room 1-3

10:45 - 11:30

Open Source based customer oriented process model
(Holger Breitling, Project Manager)
Room 1-3


10:45 - 11:15
Coffee break
11:45 - 12:30
Open Source BIRT as base for reporting applications
(Lilija Kucinskaja, Sales Engineer, Actuate, Deutschland GmbH)
Room 1-3

Open-Source-Software, Eclipse Public License and the Eclipse ecosystem - legal aspects
(Dr. Martin Braun, Lawyer, Kanzlei WilmerHale)
Room 5

12:30 - 13:30
Lunch
13:30 - 14:15

Software development for the insurance industry according to the COSAD*-standard
(Prof. Dr. Elmar Helten, President of Bavarian Finance Centre, Jochen Krause, Managing Director, EclipseSource)
Room 1-3


14:20 - 15:00
Flexibility through the use of modular insurance software:
The Power of Equinox/ OSGi
(Dr. Stephan Wilczek, Managing Director, Weigle Wilczek GmbH)
Room 1-3

SOA based process improvement in average management
(Marcel Donges, Principal Consultant, SOPERA GmbH)
Room 5

15:00 - 15:15
Coffee break
15:15 - 16:00
Distribution Systems based on Eclipse Riena
(Jürgen Wiesmaier, Managing Director & CTO, compeople AG)
Room 1-3
16:00 - 16:45

Agile product modeling with the EMF
(Carsten Bockermann, in2solutions AG)
Room 1-3


16:45 - 17:00
Coffee break
17:00 - 17:30
Panel discussion
Room 1-3

 * Collaborative Open Source Application Development
Please note that the Eclipse Insurance Day program will be primarily in the German language with some talks held in English.



Sponsors