EGerrit/New and Noteworthy/1.2
1.2 is being developed and is expected to be released mid-December 2016. You can find more about the on-going work at https://tuleap.eclipse.org/projects/egerrit
Features
General
Editor
A new dialog gives you a quick access to the list of files in the active review making it faster to jump to the next file in the review.
After a checkout (or after activating the markers), use Ctrl+5 to get the dialog to open. Once the dialog opened, use Ctrl+5 and Ctrl+Shift+5 to go back and forth between the files.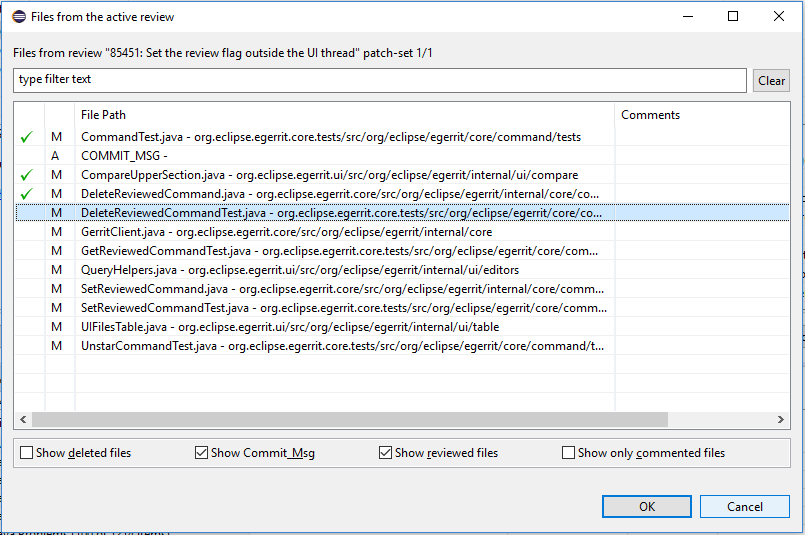 Quick diff is automatically enabled allowing you to more easily see the changes in the file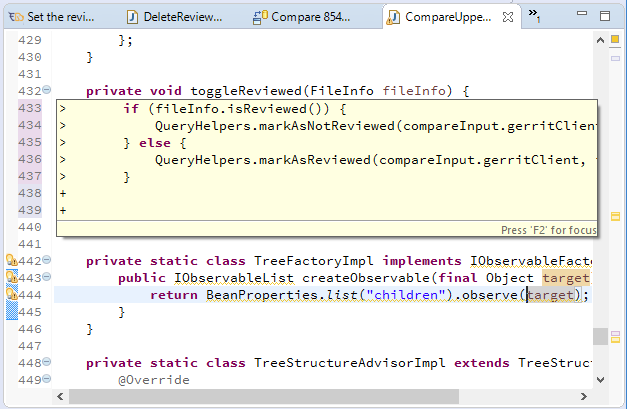 Automatically refresh open editors when a related review changes
When a review is submitted, abandoned, rebased or restored, the related reviews opened in an editor will be automatically refreshed.
Compare Editor
Properly handle all the types of differences (change, rename, addition, deletion)
Compare editor now properly show all the differences for renamed files.
Bug fixes
The refresh button obtains a new copy of all the data from the server
Checkout dialog is smarter about how it handles the branches it proposes
Many small fixes to improve the stability