E4/UI/Running the contacts demo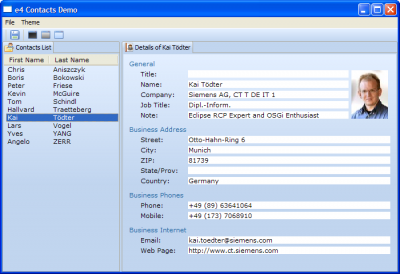 The instructions provided on this page were last updated for the Eclipse 4.4 release.
The e4 contacts demo showcases an e4-based RCP application that allows the user to view and edit vCards.
Prerequisites
Download an Eclipse SDK here.
Start up Eclipse.
Install the EMF SDK from the appropriate release site
Features
Displays the usage and definition of commands, handlers, and keybindings in e4

Ctrl+5, X will exit the application (demonstrates multistroke keybindings)
Ctrl+S to save the vCard that's currently opened

Shows how CSS can be used to skin an application (note that the CSS engine does not have any particular dependencies on e4 technologies and can be reused in an Eclipse 3.x-based application)
Editing a vCard will cause the part to display the '*' dirty affordance (demonstrates the life cycle of saveable parts)
Setup steps
Clone the UI git repo from eclipse.platform.ui
Use the EGit Repository view and Import Projects to import 'org.eclipse.e4.demo.contacts' and 'org.eclipse.e4.demo.contacts.features' into your workspace
Expand the 'org.eclipse.e4.demo.contacts' project and open the contacts.product file.
In the opened editor, navigate to the 'Testing' section in the 'General' tab. It should be located in the bottom left hand side of the editor.
Click the 'Launch an Eclipse application' hyperlink. The demo should then launch.
Known issues
The splash screen does not currently go away, see bug 277463.
The examples PSF works correctly with each milestone, but is invalid for I builds, see bug 298011.
Contact demo fails to launch from the .product file. Open the Run Configuration dialog and hit Run, see bug 303973.