CDO Objectivity Store Download and Install
The CDO Objectivity Store is tested with the following software:
Eclipse 3.6 (Helios)
EMF 2.6
CDO 3.0
Objectivity/DB 10.0

All the software should be installed/installed as plugins. The download locations of all the required plugins are listed in the next sections.
Download locations
To download Eclipse 3.6 (Helios) go to this page: http://www.eclipse.org/downloads/
For the tutorials, the Eclipse IDE for Java EE Developers or Eclipse IDE for Java Developers can be used (no need to pick the full modeling tools).
You can also get the IDE with all the modeling tools from Eclipse Modeling Tools
EMF is probably included in the Eclipse IDE. But if it isn't then it can be downloaded here: http://www.eclipse.org/modeling/emf/downloads/?project=emf (see the maintenance builds a bit lower on the page):
To install the CDO SDK: [need link here].
If you are not an Objectivity/DB customer/user, you can download an evaluation version of Objectivity/DB 10.0.
Installing the plugins
Installing Objectivity/DB
For any question regarding Objectivity Installation, go here
Installing CDO plugins
The CDO plugins are installed using p2 directly.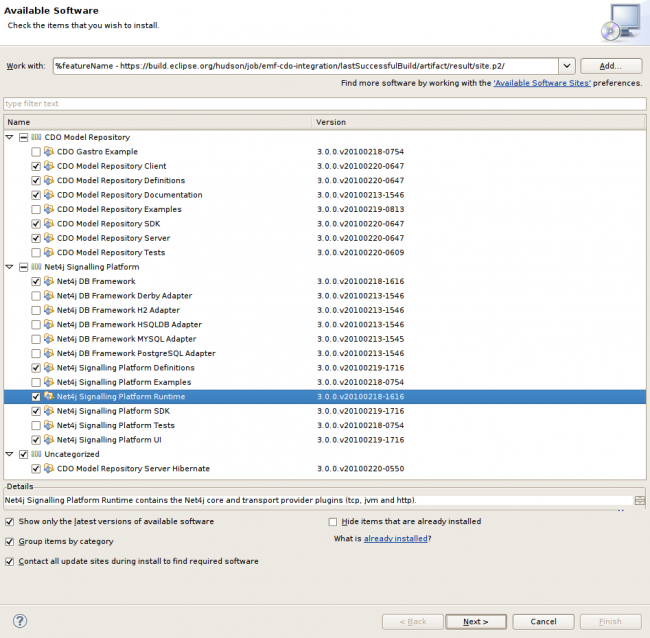 For the zipped files the following approach can be used:
all the zip files were unzipped and then merged together in one directory 'eclipse' (with subdirectories features and plugins)
this eclipse directory was placed in the dropins directory of the eclipse installation
After installing restart eclipse.
For more information see the p2 getting started page.
After restarting Eclipse you can visit the Help > About Eclipse > Installation Details (a button). It should show the installed plugins as shown below.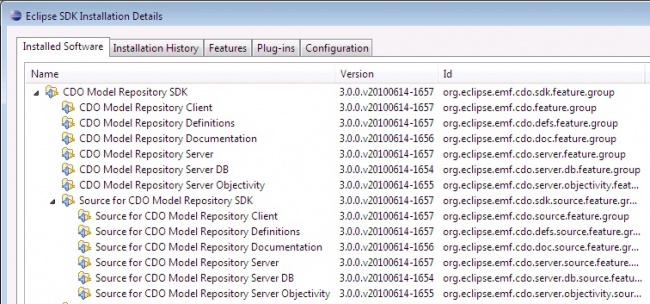 (note: the org.eclipse.emf.cdo.examples.objectivity.client contains dependencies on the objectivity cdo store server side.)
---