Stardust/Knowledge Base/Customization/Portal/Bulk Completing Custom Worklist View
a) Introduction
Based on certain requirements, there are instances when a user with a specific role needs to complete activities in bulk/ multi select, example below does the following:
Add Custom perspective within the Stardust portal
Loads a Custom Activity View within the custom perspective, user with a certain role can only access this view
Allows multiple selection of these activities, and complete them.
Note: This example can be extended to display only the manual activities in the activity table.

b) Custom Activity View - Completion of Bulk Activities

Download the complete example project.

Steps:
The above example project ipp-ao-plugin has a structure that includes all the markups(xhtml,images..etc), and source. Nothing else needs to be stored at the dynamic web application level.
Compile the attached project plugin and add the same in the WEB-INF\lib folder of your dynamic web project
Above Plugin will add a new Perspective - "Custom Perspective" this will be visible only to the user with Role "External" So please make sure that you have this role defined in your process model.
An "Activity View" will be added to this perspective.
All the activities will be displayed as below.
Note: Currently the goal of this example is to select multiple activities and complete it.
You can always drill down the activities per user/role, and check for the implementation type is "Manual" or "Application", this would not be recommended unless absolutely required and authorized by the design/architecture team.
Result:
A new perspective with id "Custom Perspective" will be added.
If you login to the portal with the user having "External" role, Custom Perspective and then Activity View will be displayed.

Select the Required Activities and Click "Complete".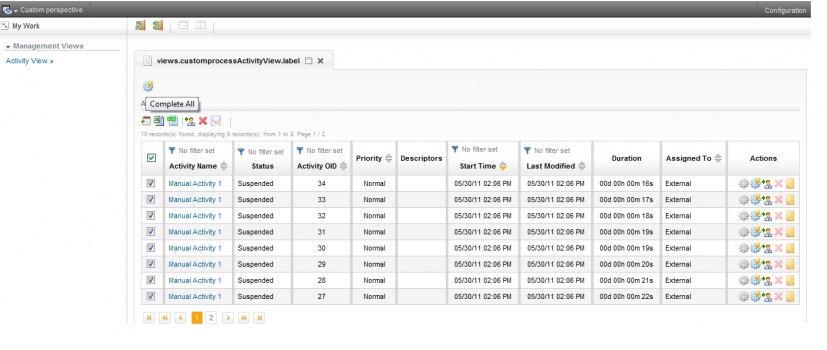 Implementation:
Attached jar contains an "customactivityView.xhtml" view, that displays all the activities, with a "Complete All" button on top of the activity table.
"CustomActivityViewBean" is the backing bean for this activity view table.
Above bean has a function "createQuery()" within inner class "ActivitySearchHandler" that has the activity query. ActivityInstanceQuery that will be passed in to the QueryResult for fetching the activities.
Selecting the activities and clicking on the "Complete All" button will invoke "completeAllActivities()" from the backing bean, and refresh the activity table.

Note:
For 6.x version we need to modify existing project under Stardust_Bulk-Activities-files.zip
"PortalUiInitialization" bean need additional line of code to initialize Perspective before assigning any role to it
  PerspectiveDefinition perspective = (PerspectiveDefinition) bean;
  Add below line of code after type casting bean to PerspectiveDefinition and then assign any role 
    Set<String> roleset =  perspective.getRequiredRolesSet();

For "completeAllActivities()" from CustomActivityViewBean backing bean we need to change call from
  PPUtils.activate(ai); to com.infinity.bpm.ui.web.viewscommon.utils.ActivityInstanceUtils.activate(ai);

Packaging changed for following classes in Stardust 6.x version from icom.infinity.bpm.portal.adminPortal to com.infinity.bpm.portal.admin
 AdminportalConstants.java
 ResourcePaths.java
 WorkflowFacade.java 
 So import statement's need to be changed in CustomActivityViewBean

Checkbox selection for activity list table is removed in 6.x version. For multi select you need to use ctrl select or shift select button option.