OSEE Change Report
This page should be a carbon-copy of OSEE/Users_Guide/Features#Change_Report_View which is just repeated on a separate page for convenience. It is possible that it has become out of date due to a new release of OSEE and, if you suspect this, please follow the above link.
The change report view shows all changes made to a branch.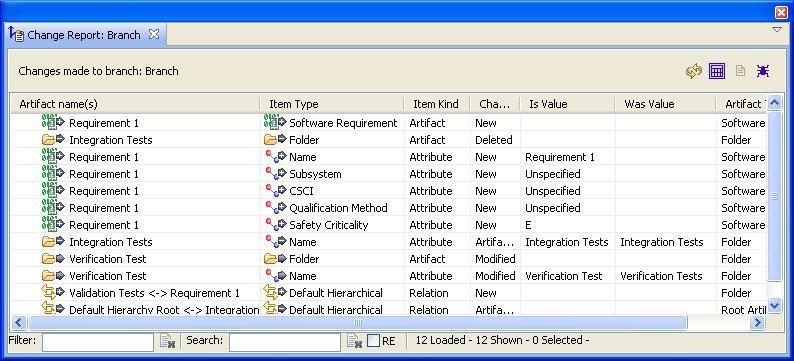 | Command | Description |
| --- | --- |
| | Refreshes the data in the change report view with the latest information. |
| | Opens the table customization dialog. This allows users add or hide columns. |
| | Opens an action against the Change Report View. |
Toolbar Drop-Down
To display, click on the inverted triangle located on the upper right-hand side of the Change Report View.
| Command | Description |
| --- | --- |
| Show Document Order | Switch presentation to show artifacts ordered by their default hierarchy relation. |
Pop-up Menu
To display, perform a right-click on any branch.
Command
Description
Open
Opens the selected artifact using the default editor.
Open With
Opens a sub-menu listing the available editor's for this artifact.
Reveal in Artifact Explorer
Displays an artifacts location in the Artifact Explorer.
Resource History
Opens the Resource History view for the selected artifact. This will display all transactions for this artifact.
Single Native Diff
View Word Change Report
Displays a Word document populated with the branch differences of the selected artifacts.
View Viewer Report
Generates a report of the Change Report View content.
Copy
Copies the artifact.
Revert Artifact
Reverts an artifact.
Revert Attribute
Reverts an attribute.
Delete Transaction
Deletes a transaction.