Foundation09holidaymeetup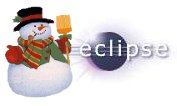 The Eclipse Foundation would like to welcome everyone to a gathering in celebration of the holidays. It will be a stammtisch for Canadians - buy yourself a drink and Eclipse will supply the snacks.
Location
Marshy's Bar-B-Q & Grill
117 Centrepointe Dr.
Ottawa, ON
Google Map Link
Date and Time
Friday, December 18, 2009
3:00pm on
Who Is Attending
If you plan on attending please add your name and company to the list below. If you need any help with the wiki, just send an email to lynn at eclipse dot org.
Mike Milinkovich, Eclipse Foundation
Kim Horne, Research in Motion
Kevin Barnes, SWT
Doug Schaefer, CDT
Andrew Niefer, IBM (PDE, p2, Equinox)
Boris Bokowski
Kim Moir, IBM, (Platform releng)
Ian Skerrett, Eclipse Foundation
Lynn Gayowski, Eclipse Foundation
Sharon Wolfe, Eclipse Foundation
Stan Wolfe
Donald Smith, Eclipse Foundation
Nathan Gervais, Eclipse Foundation
Matt Ward, Eclipse Foundation
Denis Roy, Eclipse Foundation
Remy Suen, IBM
Oleg Besedin, IBM
Janet Campbell, Eclipse Foundation
Sharon Corbett, Eclipse Foundation
Barb Cochrane, Eclipse Foundation
Nick Edgar, IBM (Jazz Build)
Jeff McAffer, EclipseSource
Allison Kelly, Eclipse Foundation
John Arthorne, IBM (Platform, Equinox)
Mike Norman, Oracle
Olivier Thomann, IBM (JDT/Core, API Tooling)
Kenn Hussey, Independent
Simon Kaegi, IBM