Eclipse Day India 2013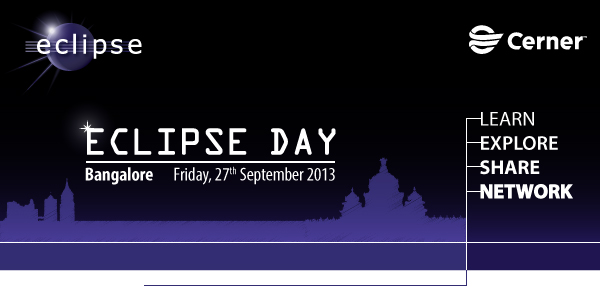 ---
Organisers
Cerner Healthcare Solutions Pvt Ltd
Date & Venue
Friday, 27th September 2013 Cerner Healthcare Solutions Pvt Ltd Level 8, C2 Cedar, Manyata Embassy Business Park, Bangalore
Registration
Registrations are now closed
Talks / Demos synopses
Key Note address by Chris Heil on adoption of open source technologies for healthcare solutions.
Demo of Sky Vue: a flagship PACS viewer developed on Eclipse RCP platform using SWT and OSGI. (Was demoed in Eclipsecon 2012)
Demo and presentation of open source ventures of ANCIT on eGit extensions,Eclipse Utils and Eclipse Spykit.
Demo of Fetalink: a maternity healthcare solution built using Eclipse RCP used to monitor health of Mother and foetus.
Demo on Developing on the Web, for the web - using Orion & JazzHub

Lakshmi Priya Shanmugam IBM.

Demo and presentation on JDT Tips & Tricks
A sneak peek into the major interesting features of Java 8 that you can expect to see in Eclipse Luna (4.4), and probably as a patch for Eclipse Kepler (4.3.2) - Eclipse and Java 8
Demo and presentation on Unit testing XText DSL's.
Talk on 'Usage of EclipseLink ORM framework'.
Demo of Apache outcomes Unit View. An RCP application.
JVM Garbage Collection Explained for Eclipse based Applications
About
This edition is dedicated to anyone who wants to share with the community their success in the adoption of eclipse technologies.
Main topics addressed:
Eclipse Technologies
Cloud
Mobile
OSGi
More info on www.eclipseday.in
Call for Papers
The Call for Papers is now closed.
Thanks a lot to everyone who has submitted a session proposal !
If you want more information about the event, please send an email to Prasanna.Kulkarni@Cerner.com.