E4/position papers/Yves YANG
Position Paper: Yves YANG
Nowadays, UI development in Eclipse is mainly direct programming mode: UI controls and event handling are directly created in Java. This solution presents several drawbacks:
High technology pre-requisite as UI developer
Difficult to separate UI appearance and business logic
Poor reusability
Limitation of the dynamic UI support
Very hard to integrate with develop tools
The Declarative UI should be a foundation solution to resolve these problems. Some of them can be resolved directly, and some of them needs a tools built on top of this component such Visual Editor, modeling tool.
This component can be used by three kinds of developer:
SWT Developer
UI designer
Model designer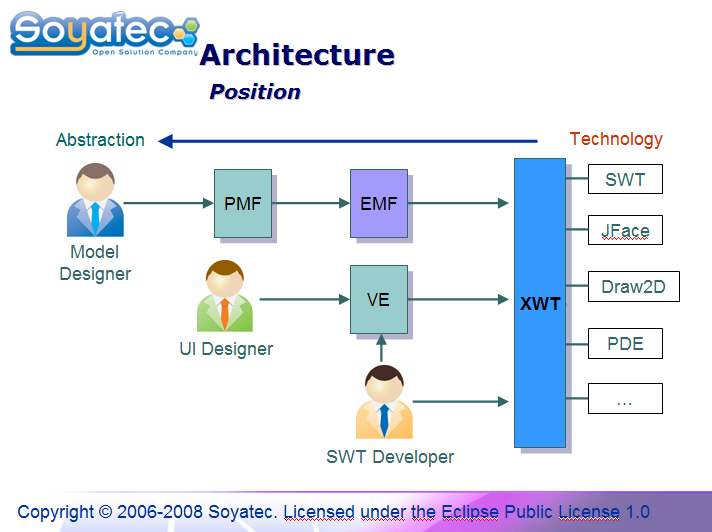 SWT Developer
SWT Developer should have a deep knowledge of UI technology such as SWT/JFace, JFace databindng, PDE, etc. She/he needs a component-based framework to develop reusable UI Components for Domain UI Designer.
UI designer
UI Designer is a domain application developer. She/he focuses on building domain application using UI Components provided by SWT Developer. The knowledge on SWT/JFace is not necessary.
Model designer
Model Designer is a domain application developer using MDA tools. She/he needs a Template engine to generate UI from the business model.
Essential features
The following features are very critical for this framework:
Extensibility - Dynamic mapping with UI technology library such as SWT/Jface
Support of Data Binding
Component approach to guarantee the reusability
Support of the MDA