DataBrokerInitialization
Overview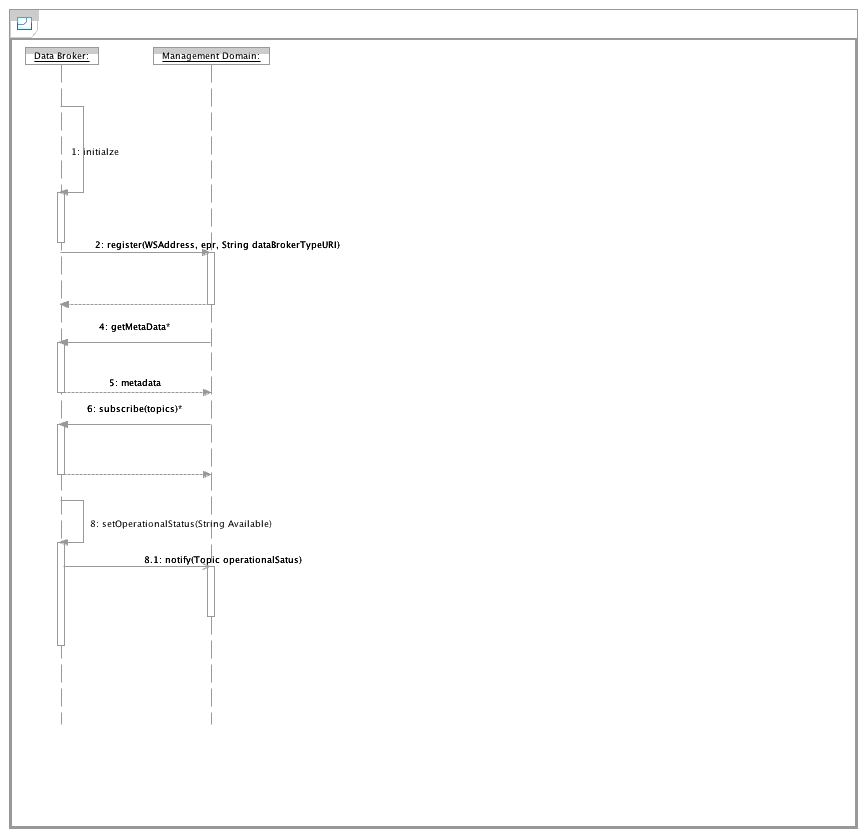 Assumptions
The Data Broker is instrumented as a WSDM resource
The Data Broker may support MEX.
The Data Broker should support the following WSDM capabilities

Identity
Manageability Characteristics
Operational Status

The EPR of the Management Domain is known to the Data Broker. This may done via a deployment descriptor.
The Data Broker must be able to manage WS-N subscriptions (b/c we don't have an open implementation of WS-BN)
Description of Flow
--> Needs to be reconciled. Broker undergoes initialization: Loops through the rows in the registry, ping each Data Manager for their status. If a Data Manager is reachable, set its state to "online"; otherwise, set it to "offline".
Broker waits for requests
Notes
Step 2: register(WSAddress, epr, String dataBrokerTypeURI)

The dataBrokerTypeURI is the proper namespace of the cosmos DataBroker. The namespace for the Data Broker is: http://www.eclipse.org/cosmos/databroker. The URI *should* resolve to an SML definition of the Data Broker.

Step 4: The preferred metadata dialect is WSDL.
Step 6: No other topics outside of WSDM are required at this point
To Do
Need to update this with the initial initialization of metadata from the MDR to the Data Broker