Corona Preferences Page
---
The corona preferences page is used to configure corona specific options.
---
How to open corona preferences page
To open preferences page do fallowing:
Select from menu: Window > Preferences...
Select "Corona" from preferences list

Available preferences
Configuration directory
You can change corona configuration directory within Configuration directory preference page.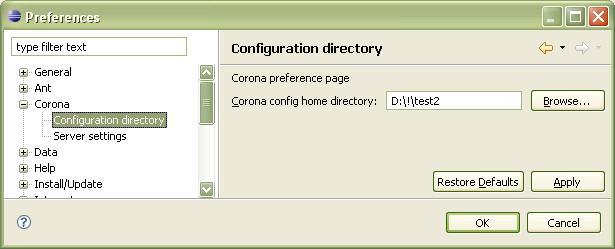 You can do it in following ways:
Typing new configuration directory in directory edit field.
Clicking Browse... button and selecting desired directory from standard eclipse directory browser.

Please note that selected directory must exist, otherwise Apply and OK buttons will be dimmed.

After changing configuration directory location you will be warn by a following dialog box:





Please note that after pressing OK button all opened corona projects and views will be closed.
Server settings
You can change corona server within Server settings preference page.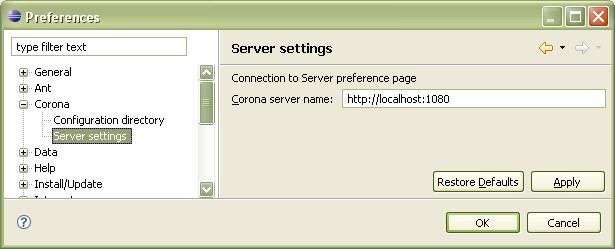 After changing configuration directory location you will be warn by a following dialog box:





Please note that after pressing OK button all opened corona projects and views will be closed.

If connection to corona server fails, you will be informed by following error message: