Basic CMDBf Query Dialog
COSMOS Wiki > COSMOS Document Plan > COSMOS Manual Guide > COSMOS_UG_Web_Component_Library
Basic CMDBf Query Dialog
Purpose: This dialog provides a simple text input box to submit a CMDBf query document to a MDR.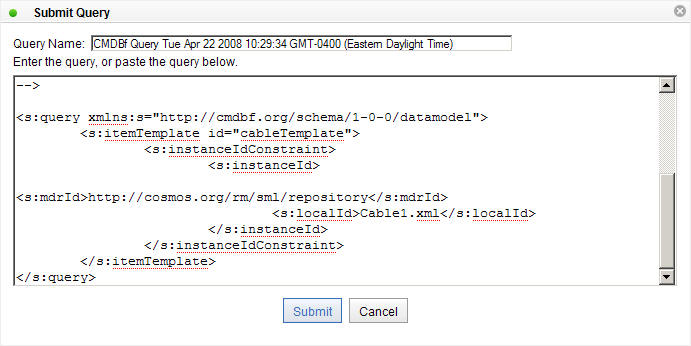 Application can configure the Data Manager Navigator component to show this dialog box by selecting the "Submit a Query" menu option. Typically, the user would right-click the MDR he/she wants to submit a query to. This would bring up a pop-up menu with an option to "Submit a Query".
The user would type the CMDBf query document they would like to send. Once the user is done creating the query document they would click on the "Submit" button to send the document to the MDR. A default name of the query is provided. The user can change the name of the query if they wish.
Once the user submits the a node is added under the selected MDR that represents the query.