VIATRA2/Installation
Installing VIATRA2
Prerequisites
VIATRA2 R3 is available as an Eclipse feature, and as such, it requires Eclipse Europa (3.3.x). VIATRA2 also uses some Java6-specific features, so you should have an up-to-date version of the Java1.6 software development kit (Java6 Standard Edition SDK download).
Required Eclipse Components
VIATRA2 R3 (with the default add-ons) requires the following Eclipse features:
Eclipse Modeling Framework 2.3.x (core requirement)
Graphical Editing Framework (only for domain-specific modeling) 3.2.x
EMF UML2 2.3.x (for UML2.1 model import)
Installing from the Update site
Installing VIATRA2 from the update site is the easiest way of trying VIATRA2 (and it is the recommended way also). To install VIATRA2 to a vanilla Eclipse Europa installation, follow this procedure: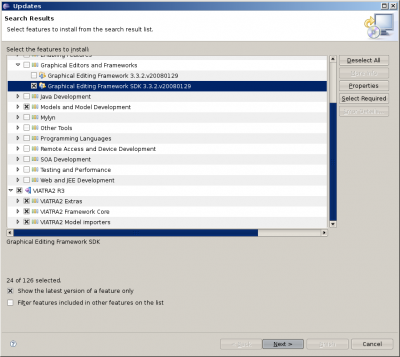 Start Eclipse, select Help|Software updates|Find and install|Search for new features to install
On the Update site screen, add a new remote update site: http://viatra.inf.mit.bme.hu/update/R3
Select the newly added remote site and the Europa Discovery Site
On the Results screen, select all features from VIATRA and the entire "Models and Model development" category and the Graphical Editing Framework SDK from "Graphical Editors and frameworks" (this will install all EMF-related projects along with UML2)
Finish the installation and restart Eclipse.
Once the procedure is complete, VIATRA2 R3 is ready to be used. For basic instructions, see VIATRA2 Basics.
Installing from Subversion
The prerequisites for installing from the Subversion repository are the same as for the binary distribution. Additionally, you'll also need a subversion integration plug-in for Eclipse (we recommend Eclipse Subversive.
Checking out projects
If you intend to use the Subversion repository, you'll have to check out VIATRA2 plugin projects into your Eclipse workspace and run VIATRA2 in a run-time workspace in another Eclipse instance (only recommended for development and debugging). You have to separately ensure that the Eclipse Modeling Framework (EMF) dependency is installed in your Eclipse environment.
There are two repositories of interest:
CORE: https://svn.inf.mit.bme.hu/viatra/viatra_core/R3 Here you'll find the core components of the VIATRA2 framework such as the model management engine, the transformation interpreter, the VTCL parser, the pattern matcher engines and the user interface components. For historical reasons, useful content is placed in the folder eclipse.org.
EXTRA: https://svn.inf.mit.bme.hu/viatra/viatra_extra/R3 Here you'll find extra add-ons such as importers, domain-specific modeling components, model manipulation libraries and other experimental projects. Currently this repository is restricted; contact us in order to gain access.
To have basic functionality, you should check out all projects from the eclipse.org/trunk directory of the CORE repository. The exception is the two UML importer plugin projects; they are optional, but require Eclipse UML as an additional dependency; moreover there are two projects for compatibility reasons, only use the one that matches your Eclipse version.