Stardust/Knowledge Base/Integration/Application/Mail
Purpose
Possibility to decide upon the transitions at a split based on the user response submitted per email.

Model Description
Suppose a decision is to be made about further transition in the process. At this point an email is sent to the user containing some links that the customer follows depending on his decision. Each link corresponds to a certain value of the variable in the model that is used in the split for transition conditions. Following model is used to implement an example of message transformation application: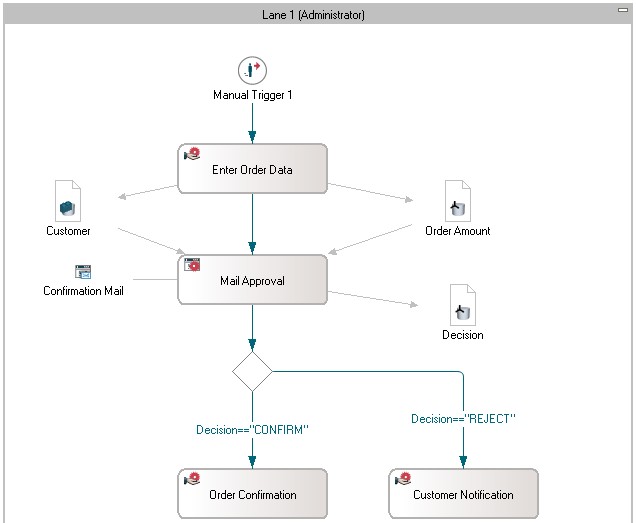 Hereby the structured data Customer is assigned with a composite type Customer containing following fields of type String: FirstName, LastName. The primitive data Order Amount and Decision are of type String (see MailApplication.xpdl).

Configuration of Mail Application
In general, the configuration of a mail application is described in the corresponding article in the IPP documentation. At this point the necessary steps are summarized and listed in following:
Open the properties of the mail application. To test the project running on the local server, type ffm-mailrly.banking.net into Mail Server input line. Otherwise, specify the remote server that is used for sending mails.
As URL Prefix, specify the root web address of the application. In case of locally running project type http://localhost:<port>/<projectName> as in the figure below.