Scout/Tutorial/5.0/webservices/Create Derby SQL Service
On the server node, go to Common Services > Sql Services. Right click on the node to create a new SQL Service: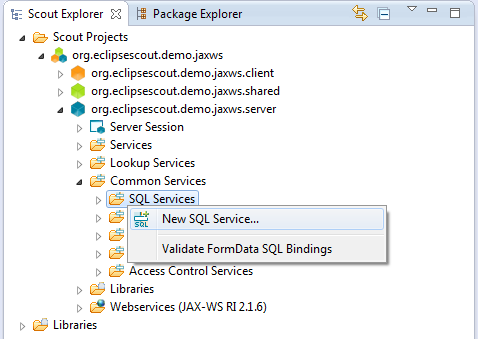 For class name, enter DerbySqlService and choose AbstractDerbySqlService as supertype: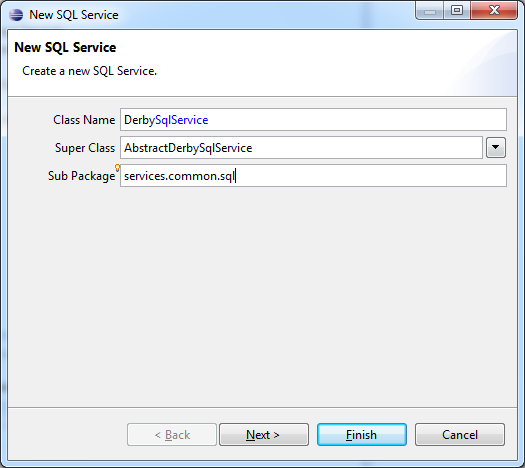 .
Click finish to create the SQL service. This creates the SQL service to access your Derby database. Also, the service registration in plugin.xml of the server Plug-In is done by Scout SDK automatically.
Finally you have to configure the path to your Derby database and specify username and password. Thereto, click on the created DerbySqlService. In the Scout Property View, please change the following properties.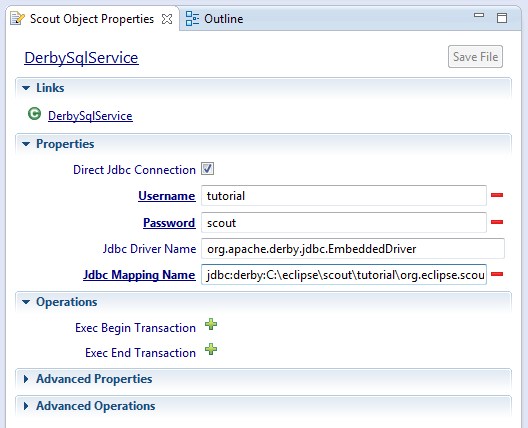 :
Username
The username to access the database.
Value: tutorial

Password
The password to access the database.
Value: scout

Jdbc Mapping Name
The JDBC connect string to access your Derby database.
Value: jdbc:derby:C:\jaxwsDB

If you have not downloaded the database yet, download it from here and copy it to a location of your choice.
You can continue the webservices tutorial.