Scout/Tutorial/3.8/Minicrm/Table Field
What is this chapter about?
We will build a new table page for the Minicrm. It will list visits (or appointments, if you want). We will build a new form to edit visits. This form will contain a table field listing the people participating.
This chapter assumes that you're pretty proficient at creating tables, forms and services. No more hand-holding. :)
Database
The Apache Derby example database already contains the following tables:
VISIT            VISIT_PARTICIPANT 
---------------  -----------------
VISIT_NR         VISIT_NR
EVT_FROM         PERSON_NR
EVT_TO           
RESPONSIBLE_NR   
CONTACT_NR       

If you want to take a look at the database using a command line tool, check this section of the tutorial.
Table Page
Start with VisitTablePage and a few columns: VisitNrColumn, StartColumn, EndColumn and OrganizerColumn.
Result: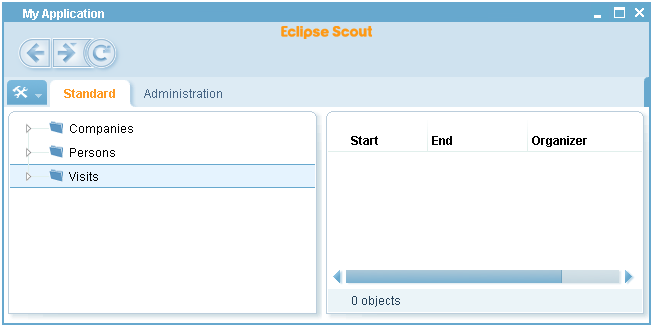 (Note: We switched the Swing client to the Rayo Look & Feel.)
Form
Create a VisitForm with a GroupBox (this just looks better). Inside the group box, add two fields: StartField and EndField, both of them dates.
Finally, add a ParticipantTableField. Use Grid H 4. More if you typically have large meetings. :)
Add a NewVisitMenu and a EditVisitMenu to the VisitTablePage.
Don't forget to pass the selected visit to the ModifyHandler in your edit menu:
@Override
protected void execAction() throws ProcessingException {
  VisitForm form = new VisitForm();
  form.setVisitNr(getTable().getVisitNrColumn().getSelectedValue());
  form.startModify();
  form.waitFor();
  if (form.isFormStored()) {
    reloadPage();
  }
}
Result: