Scout/SDK/Perspective

The Scout Perspective is an Eclipse Perspective part of Scout SDK. It provides useful views to help you write your scout application
Use the Scout Perspective
First you need to add the Perspective to your workspace. This is no different from any other Perspective:
Menu > Windows > Add Perspective > Other...
If you have installed Scout SDK, Scout should be an item in the list.
Organisation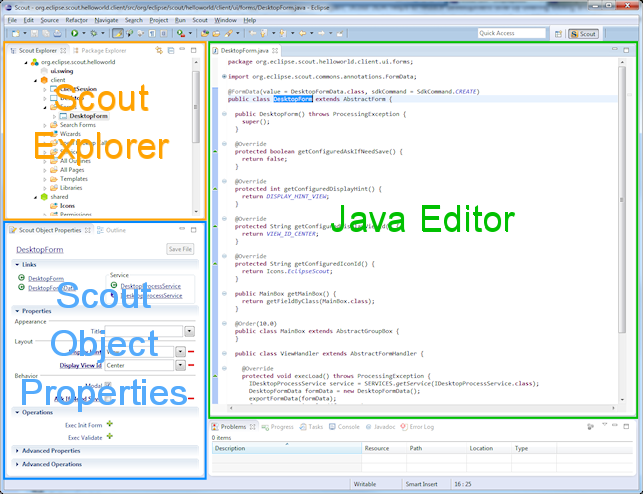 The Scout Perspective adds useful views and wizards to gain efficiency during the development of the Scout application. The idea is to perform some actions in the views that add or modify dynamically the code (for example adding a label on a field in the Object Property View). It also works in the other direction: if something is coded in the Java editor the views take into consideration the modifications (for example : if you add the code corresponding to a context menu, as possible action of a table when a row is selected, the Scout Explorer view will automatically display this element in the hierarchy).
The Explorer View provides the possibility to browse through the Scout Application. With the context menu it is possible to add new elements (form, menus, fields, form variables...) to the application.
Depending on the object selected in the Explorer View, the Object Properties View provides a list of object properties that can be configured (General, Layout, Style…). It also provide some links to add method skeleton at the correct place in the Java code (Exec section).