Scout/Concepts/LookupCall

Lookup calls are used by smart fields and columns to look up single or multiple lookup rows.
Description
LookupCalls are similar to code types. They can also be used in smart fields, tree boxes and other Scout widgets. However, they are not necessarily restricted to a fix number of records. Instead they should be favoured if the set of records is rather large.
Overview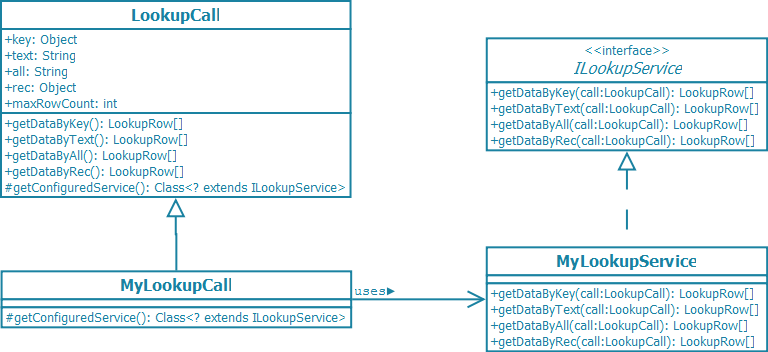 Properties
Defined with getConfiguredXxxxxx() methods.
Service: Defines which service is used to retrieve lookup rows
MasterRequired: Defines whether a master value must be set in order to query for multiple lookup rows
Methods
getDataByKey: Retrieve a single lookup row for a specific key value
getDataByText: Retrieve multiple lookup rows which match a certain String
getDataByAll: Retrieves all available lookup rows
getDataByRec: This can only be used for hierarchical lookup calls. It retrieves all available sub-tree lookup rows for a given parent
See Also