Difference between revisions of "Scout/Concepts"
Line 3:
Line 3:
 

| __TOC__

 

| __TOC__

 

|}

 

|}

−

== Configuration ==

 
−

* Inner Classes

 
−

* Type saftey

 
−

* getConfigured

 
−

* exex...

 
−

* Scout SDK is annotation-driven

 
−

* Extension templace clases

 
 
 
−

== Client ==

+

Scout

−

* [[Scout form]]

+
−

* Form fields

+
−

* Client Session

+
−

* Desktop

+
 
 
−

== Server ==

+
 
+

 

 
+
 
+

 

 
+

= =

 
+

=

 
+
 
+
 
+
 
+
 
+
 
+
 
+
 
+

 

 
+
 
+
 
+
 
+
 
+
 
+

 

 
+
 
+
 
+

 

 
+
 
+
 
+

 

 
+

=

 

*

 

*

 
 
 

<br/>

 

<br/>

 

Back to [[Scout]]

 

Back to [[Scout]]
---
Revision as of 09:47, 16 March 2010
Scout is the base of applications that may be developed with or without the Scout SDK. As Scout is written in pure Java/J2EE and satisfies the OSGi paradigm, integration of 3rd party libraries or applications is fully supported. The Scout runtime both provides a large amount of reusable functionality and a library of abstract UI component models.
The extension point registry is reused to define Scouts extension points. An Eclipse compliant extension point defines the UI representation of every component model. This simplifies adding and changing of specific component representations as well as the application representation. With a Swing and a SWT/JFace representation Scout already provides two UI implementations.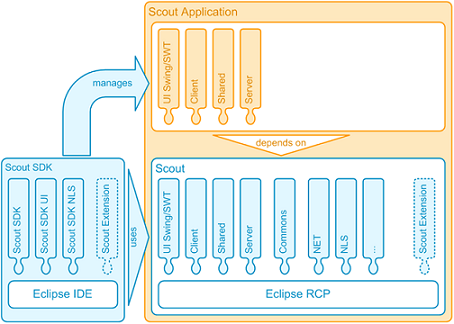 Scout
Client Component Modell
Client Session
Desktop
The desktop is the entry point of every Scout client application. It can (may) consist of top-level menus, active message box stack, set of available outline, active outline, active tableview, active detail form, active search form, form stack (swing: dialogs on desktop as JInternalFrames; eclipse: editors or views), dialog stack of modal and non-modal dialogs (swing: dialogs as JDialog, JFrame; eclipse: dialogs in a new Shell).
Menu
Tool
Outline
Typically a Desktop holds multiple outlines. They represent different entry points for the navigation within the application. For every outline a tree is available which allows navigating within the application.
Form
A form is both a model structure of a ui concept known as dialog or view and also a model of a wizard page. Wizard buttons are added automatically to the main box if missing. See a sample here:Scout form
Wizard
Scout SDK
Scout SDK is an Eclipse plugin set that boosts developer productivity in building complete applications. Examples of such applications are:
Standalone rich client platforms (Equinox, SWT/Swing)
SOA/ESB node consisting of J2EE with service registry and web services (Equinox)
Rich client platforms with a J2EE Backend (Equinox, SWT/Swing)
Scout SDK operates on top of both the Eclipse JDT/PDE model. Scout SDK guides the developer in building Scout based SOA compliant applications. Instead of implementing the same patterns of an application again and again, Scout SDK helps to reduce development time by offering tooling and outline views to navigate the application. As a consequence, developers can focus their work on the business logic of the application. In the background Scout SDK takes care of the sound architecture and complete structure of the Java project. The result of a solution developed with Scout SDK is a pure Java solution consisting of one or more Equinox/Eclipse based applications.
Application Plugins
Sample Applications

Back to Scout