Difference between revisions of "SWTBot/UsersGuide"
Line 38:
Line 38:
 

   org.junit4

 

   org.junit4

 

   org.apache.log4j

 

   org.apache.log4j

 
+
 
 
 

[[Image:Swtbot-setup-dependencies.gif]]

 

[[Image:Swtbot-setup-dependencies.gif]]
---
Revision as of 08:44, 2 December 2009
SWTBot Users Guide
Note that this page is for first time users. Advanced Users click here.
Introduction
SWTBot is an open-source Java based functional testing tool for testing SWT and Eclipse based applications.
SWTBot provides APIs that are simple to read and write. The APIs also hide the complexities involved with SWT and Eclipse. This makes it suitable for functional testing by everyone. SWTBot also provides its own set of assertions that are useful for SWT. You can also use your own assertion framework with SWTBot.
SWTBot can record and playback tests and integrates with Eclipse, and also provides for ant tasks so that you can run your builds from within CruiseControl or any other CI tool that you use.
SWTBot can run on all platforms that SWT runs on. Very few other testing tools provide such a wide variety of platforms.
Quick Start
A Screencast
Videos speak louder than pictures and words put together:
Creating A Project
Create a new project by clicking on File>New>Project. On the New Project Dialog, search for "plug-in", select New Plug-in Project and click Next. Create a new plugin project named org.eclipsecon.swtbot.example.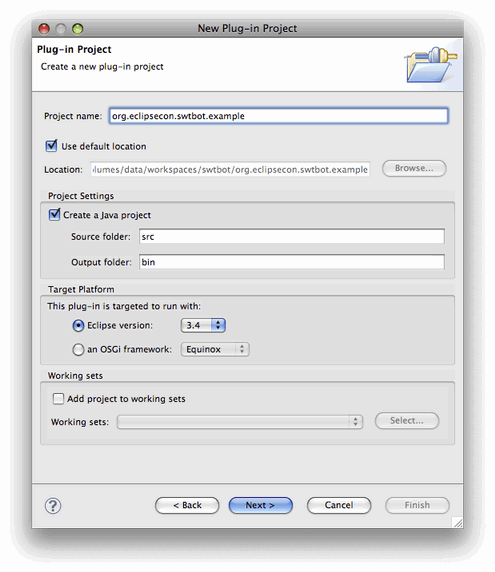 Configuration
Add the following to your classpath:
  org.eclipse.swtbot.eclipse.finder
  org.eclipse.swtbot.finder
  org.eclipse.swtbot.junit4_x
  org.hamcrest
  org.apache.commons.collections
  org.junit4
  org.apache.log4j
  org.eclipse.ui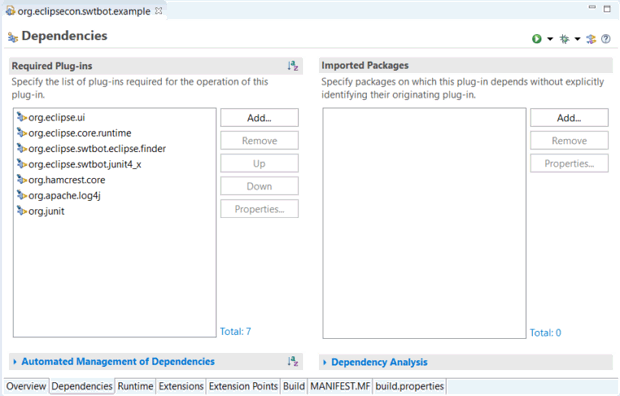 Getting started with SWTBot
SWTBot requires that tests run on a non-UI thread. If you run tests on the UI thread, they will eventually block the UI at some point in time. More info on this behavior available in the FAQ.
Getting started with SWTBot for Eclipse Plugins
To use SWTBot along with your eclipse plugin application you have to add the below plugins to your dependencies. You can download the example from the swtbot download site http://download.eclipse.org/technology/swtbot/docs/eclipsecon2009/examples.zip.
Now you can start using SWTBot. Below you can find a sample SWTBot testcase:
package org.eclipsecon.swtbot.example;
 
import org.eclipse.swtbot.eclipse.finder.SWTWorkbenchBot;
import org.eclipse.swtbot.swt.finder.junit.SWTBotJunit4ClassRunner;
import org.eclipse.swtbot.swt.finder.widgets.SWTBotShell;
import org.junit.AfterClass;
import org.junit.BeforeClass;
import org.junit.Test;
import org.junit.runner.RunWith;
 
@RunWith(SWTBotJunit4ClassRunner.class)
public class MyFirstTest {
 
	private static SWTWorkbenchBot	bot;
 
	@BeforeClass
	public static void beforeClass() throws Exception {
		bot = new SWTWorkbenchBot();
		bot.viewByTitle("Welcome").close();
	}
 
 
	@Test
	public void canCreateANewJavaProject() throws Exception {
		bot.menu("File").menu("New").menu("Project...").click();
 
		SWTBotShell shell = bot.shell("New Project");
		shell.activate();
		bot.tree().select("Java Project");
		bot.button("Next >").click();
 
		bot.textWithLabel("Project name:").setText("MyFirstProject");
 
		bot.button("Finish").click();
		// FIXME: assert that the project is actually created, for later
	}
 
 
	@AfterClass
	public static void sleep() {
		bot.sleep(2000);
	}
 
}
Executing SWTBot Tests for Eclipse Plugins
Now that you've written the great test that you'd always wanted to, lets now see it run. In order to run the test, right click on the test and select Run As > SWTBot Test

Select the application that you want to test