SMILA/Documentation/Management
SMILA is a framework with a lot of functionality. Most is invoke automatically by internal operations. Nevertheless, the user has to configure and start an initial operation. All functions a user can execute are accessible from the JMX Management Agent. On the following pages you will learn how to use SMILA with the aid of Java's built in JConsole and to handle the JMXClient which features access to SMILA commands via batch files.
Management with the aid of jconsole
The jconsole is a little tool for monitoring java applications nested in the JDK. Over a JMX connection it's possible to connect an application with the swing UI of jconsole. If you start up SMILA engine and open jconsole you can connect the Jconsole to SMILA immediately.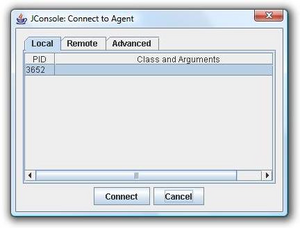 External links