Difference between revisions of "SCA/SCA Component/SCA First Steps With Composite Designer"
Line 46:
Line 46:
 
 
 

== First SCA Application==

 

== First SCA Application==

 
+
 
+
 
+
 
+
 
+
 
+
 
+
 
+
 
+
 
+
 
+
 
+
 
+
 
+
 
+
 
+
 
+
 
+
 
+
 
+
 
+
 
+
 
+
 
+
 
 
 

== Change Implementation and bindings ==

 

== Change Implementation and bindings ==
---
Revision as of 09:01, 26 May 2008
The objective of this tutorial is to show how to develop a simple SCA application using the STP/SCA Composite Designer.
You can download a pdf version of this tutorial: "First Steps with the SCA Composite Designer".
The tutorial illustrates how to:
Install the STP/SCA plugins and Apache Tuscany
Define an SCA assembly with the SCA Composite Designer
Refine properties in an SCA assembly
Define an SCA assembly with different implementation technologies
Define an RMI binding
Run and test SCA assemblies with Tuscany
Prerequisites
In order to be able to test the sample SCA application, you need to :
install Apache Tuscany on your machine,
set up Eclipse for Tuscany.
The SCA Restaurant Application
The following figure shows the SCA assembly of the application that you will create.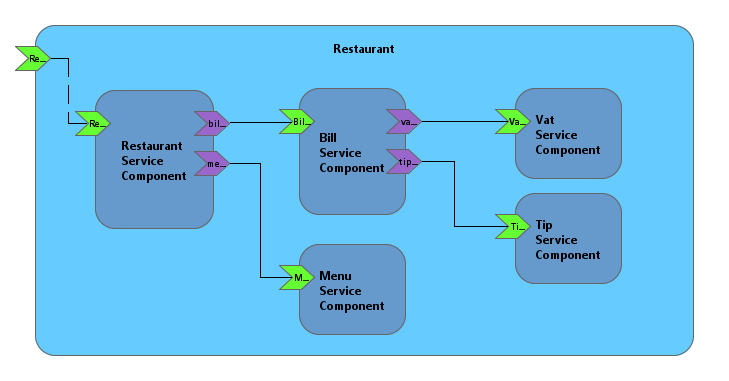 This composite, named restaurant, is a composition of five components:
RestaurantServiceComponent

Allows you to see the Menus proposed by the restaurant.
It allows also to compute the bill for a particular menu.
MenuServiceComponent

Provides different menus. A Menu is defined by a description and the price without taxes.
BillServiceComponent

Computes the price of a menu with the different taxes.
VATServiceComponent

Computes the VAT (Value Added Tax).
TipServiceComponent

Computes the tip.
First SCA Application
Create a new Java Project
First, create a Java Project to hold the Restaurant application:
Select File > New > Java Project.
Set "Restaurant" as the Project name. For Project layout, select Create separate folders for sources and class files. Click on the Next button.
Click on the Finish button.
Create a new SCA Composite diagram
To create an SCA diagram:
Right-click the project and select New > Other....
In the New wizard, select SCA Composite Diagram in the SCA Tools folder (Other folder if there is no SOA Tools folder) and click Next.
Choose a folder and type a unique name for the diagram in the File name field and click Finish.
The new created file is automatically open with the SCA Composite Designer. To open the Properties view, do a right click on the diagram and the select Show Properties View.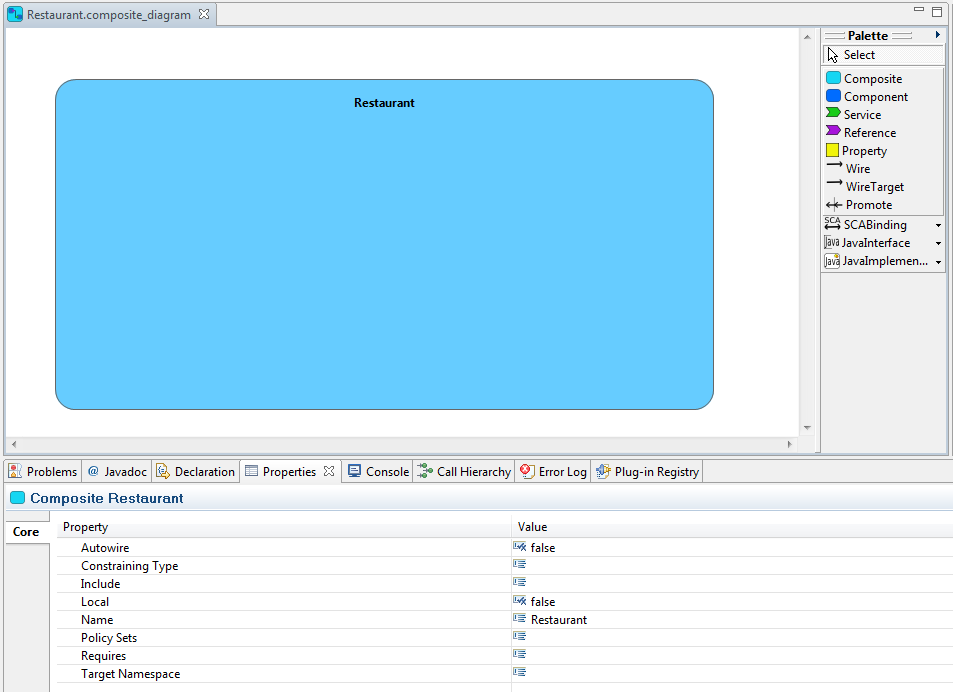 In accordance with the SCA specifications, the composite and the composite file have the same name. The name of the composite is automatically set
Now, you should see the following project structure: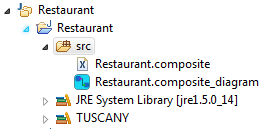 Change Implementation and bindings