Robocar
DiYRoboCar Race Challenge
Welcome to the wiki page for the DiYRoboCar Race Challenge at EclipseCon Europe 2019.
RC Car + Open Source = DiYRoboCar!
Our friends from the Connected Autonomous Driving Meetup are helping us organize a fun activity for conference attendees. See our web page.
DiYRoboCars are converted RC model cars, which are extended with a Raspberry 3/3+ or a NVIDIA Jetson TX1/2 card or Nano card.
These vehicles are sent like real vehicles on a course, where image, speed and steering data are collected, then trained in a neural network and the vehicles compete against each other.
The idea of the DiYRoboCars was born some years ago in Oakland by Chris Anderson and Will Roscoe. Please join us, if you are interested with or without robocar. Build your own robocar and take the challenge.
The Challenge Program @ EclipseCon Europe
On Sunday, October 20, 20.10.2019,from 12:00-17:00, we will set up the race track. Everybody is welcome to help and there will be time to train your robocar for the challenge.
On Monday October 21, as part of the Eclipse Community Day there will be:

An afternoon session between 14:00-17:30 with talks about autonomous driving, building robocars and lessons learned. Experts will be around to answer questions and to support you with your robocar. And, of course, there will be time for training your robocar!
The Robocar Challenge will then move to the Meet & Greet, where the final race will take place.

Note: After you register for the community day only or for the conference (make sure you choose a pass that includes Community Day), sign up for the RoboCar Challenge below.
Questions? Write us a mail
Program afternoon session
| Time | Talk | Name |
| --- | --- | --- |
| 14:00-14:15 | Welcome | Angelika, Alexander, Andreas |
| 14:15-14:45 | Introduction | Alexander, Andreas |
Sign up here
I will attend the afternoon session:
| Name | Bring my own robocar | Need support | Can support |
| --- | --- | --- | --- |
| Angelika | maybe | yes | no |
| Andreas | yes | no | yes |

My team / I want to take the challenge:
| Team Name | Robocar Name | Team Members |
| --- | --- | --- |
| Team Notaus | itemiKar | Andreas, Paul |
| | | |
I will come in on Sunday to support the construction of the racetrack and / or train my robocar:
| Name | support | training |
| --- | --- | --- |
| Angelika | X | X |
| Andreas | X | X |
Take the challenge
What will you need to take part in the challenge? Definitely a DiYRoboCar!
How to build it
DiyRoboCar is an Open Source Project and everybody can build such a car. For instructions on how to build one, visit this page.
What you need to build it
Here is the BOM:
http://docs.donkeycar.com/guide/build_hardware/#parts-needed
An Alternative BOM with German Links is here:
http://www.exxternity.net/diyrobocar/diy-robocar-standard/car-bom-teileliste/
Instead of the Reely Beach Buggy (Good price) the founders and some of the team are using a Traxxas Modell Car.
Download the 3D printed Parts
Download page:
https://www.thingiverse.com/thing:2566276
Step by Step Implementation (Linux, MAC, Win)
http://docs.donkeycar.com/#build-your-own-donkey2
Video Tutorial
Adam Conway (Co Founder of DiyRoboCar) made a nice tutorial video together with the maker movement.
Youtube Link:
https://youtu.be/OaVqWiR2rS0
Meet us, contact us, ....
Join us for our next Meetup:
https://www.meetup.com/de-DE/Connected-Autonomous-Driving/
See you at the race!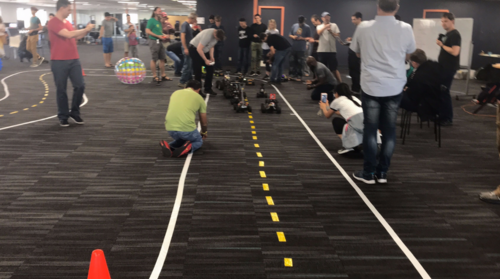 FAQ