Riena/Toolbox
Wizards
The easiest way to start building a Riena application is to use a template included in the Riena UI Wizard Feature. Of course, you can also write a Riena app from scratch.
Using the 'new project' templates
Install the Riena Toolbox from Downloads – Installation – Setup
Create a new Plug-in Project (File > New > Plug-in Project > Next)
Choose a project name > Next
On the Content page:

"This plug-in will make contributions to the UI" => Yes
"Would you like to create a rich client application?" => Yes
If you picked the "Riena Hello World" or "Riena Mail Template"

start the resulting project with Run As -> Eclipse Application.

If you picked the "Riena Client/Server Template"

use the launch configurations that are included in the project. Start the server first, then the client.
Take a look at the code in the projects and have fun.
AssemblyEditor
The Riena assembly in short is a set of extensions that define the navigation structure of Riena applications. Assemblies define the way the navigationtree of a Riena-Application looks like.
The AssemblyEditor is an improved treebased editor like the PDE extensionpoint editor, that offers much more comfort when editing assemblies. Besides having a richer editor for the navigationtree the AssemblyEditor can generate Javacode like Views/Controller from a template. So instead of creating a SubModuleView, registering it under the extensionpoint org.eclipse.ui.views, you can just let the AssemblyEditor do all the tedious work for you.
Furthermore the AssemblyEditor can generate missing getRidget-calls in the SubModuleController for the corresponding Widgets. We support a roundtrip engineering at this point, so you can edit your SubModuleController like you are used to and let the AssemblyEditor update your missing getRidget-calls.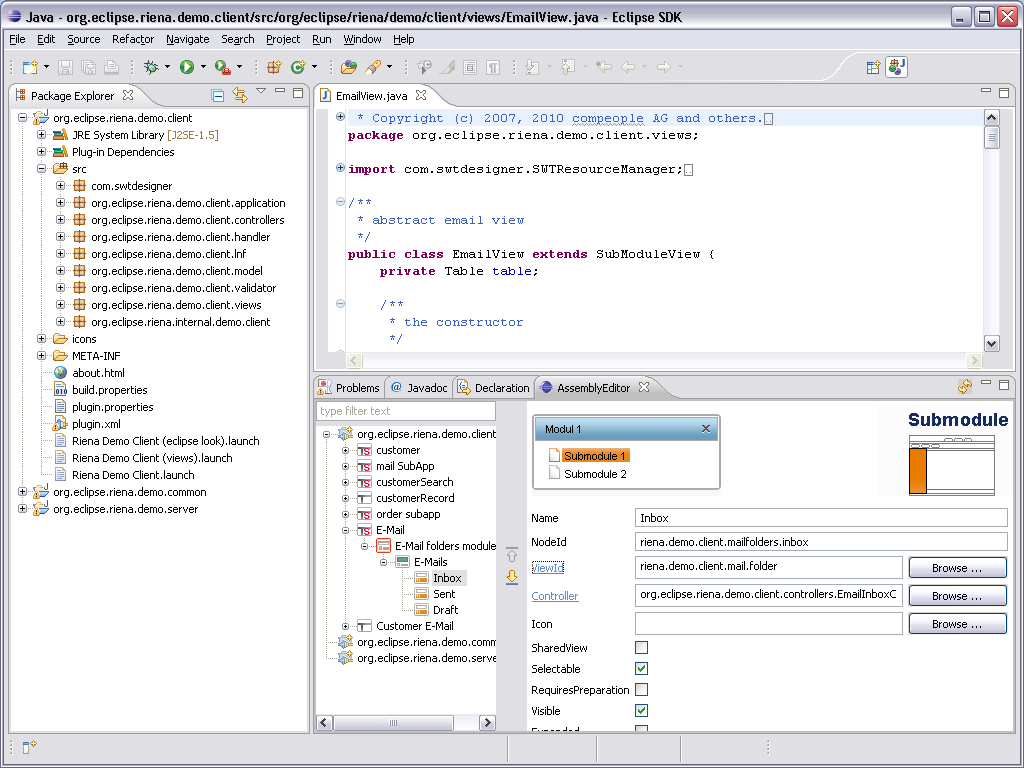 Previewer
Riena is based on Eclipse RCP and therefore uses RCP-Views as a basis for the SubModuleViews. RCP-Views can only be viewed have to be registered as an extenionpoint and thus an Eclipse workbench has to be started to view the RCP-View. The Riena Previewer solves this issue by giving you the opportunity to preview any RCP-View oder SWT-Composite without starting the application at all. To show a preview just right click on a RCP-View or SWT-Composite in the Package Explorer and choose "Preview". Besides you just preview the content of the active editor by pressing strg + shift + p.