OpenMobility
Overview
Vision
Advancing Simulation Environments for Transport Applications
Structure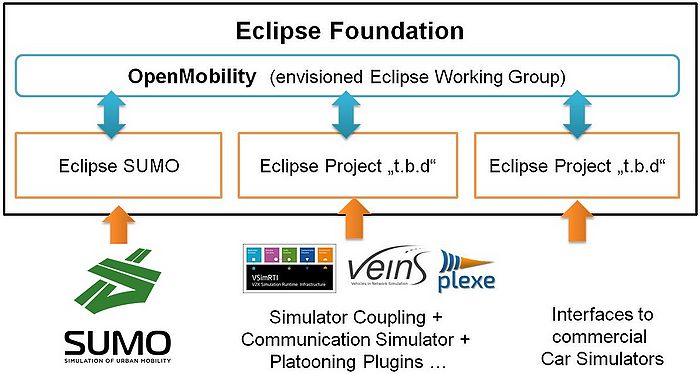 Referenced Projects
The following software projects are intended to be migrated into the Eclipse world and coordinated by the work within the envisioned OpenMobility working group.
Eclipse SUMO - Simulation of Urban MObility
SUMO is a free and open traffic simulation suite which is available since 2001. SUMO allows modelling of intermodal traffic systems including road vehicles, public transport and pedestrians. Included with SUMO is a wealth of supporting tools which handle tasks such as route finding, visualization, network import and emission calculation. SUMO can be enhanced with custom models and provides various APIs to remotely control the simulation. Currently, we are in the process of making SUMO an Eclipse project. Once the process is finished you will find a detailed description of Eclipse SUMO here in the Wiki. For the time being please see SUMO in a nutshell or visit SUMO Wiki.
VSimRTI Smart Mobility Simulation
The V2X Simulation Runtime Infrastructure (VSimRTI) is a comprehensive framework for the assessment of new solutions for Cooperative Intelligent Transportation Systems. Vehicle movements and sophisticated communication technologies like Vehicle-2-X communication and cellular networks can be modeled in detail. VSimRTI is one of the most flexible systems available in the automotive research arena to dynamically simulate Smart Mobility applications and to assess their impacts and benefits. See Homepage.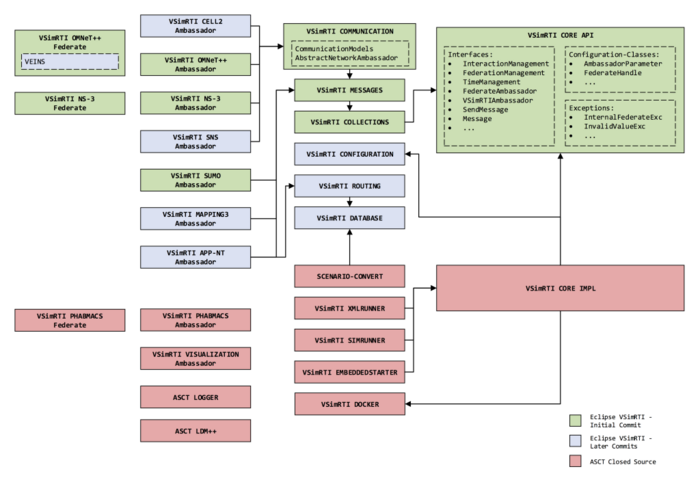 Veins / Plexe
Veins is an open source framework for running vehicular network simulations. It is based on two well-established simulators: OMNeT++, an event-based network simulator, and SUMO, a road traffic simulator. It extends these to offer a comprehensive suite of models for IVC simulation. See Homepage
Plexe is an extension of the popular Veins vehicular network simulator which permits the realistic simulation of platooning (i.e., automated car-following) systems. It features realistic vehicle dynamics and several cruise control models, permitting the analysis of control systems, large-scale and mixed scenario, as well as networking protocols and cooperative maneuvers. It is free to download and easy to extend. See Homepage
Charter
see here
Joining and Colaboration
Mailinglist
There is a mailinglist for all interested parties.
Meetings
We have a teleconference every 4-6 weeks. Request an invitation via email. Protocols of previous meetings can be found here
Members
Steering Committee 2019/2020