OpenGENESIS WG
Mission
openGENESIS is a collaborative platform with the mission to provide knowledge, methods and tools for the assessment of artificial intelligence (AI) that is used within autonomous driving applications. Before deployment onto public roads, learning algorithms must be proven safe and roadworthy. However, our current understanding of AI's complex functionality is limited, especially in relation to machine learning algorithms. openGENESIS will provide both public and regulatory authorities with approaches to help them deal with the challenges of AI approval and certification. Providing a "TÜV for AI".
Added value
The openGENESIS collaboration platform leverages knowledge among its members, enabling them to cooperate efficiently and share research results in an open access domain. This will establish a strong global exchange between industry, research and regulators to develop common criteria for the quality of AI.
Scope
openGENESIS drives and supports the investigation of an understandable, verifiable and certifiable AI. This includes the adoption of functional safety approaches to symbolic and subsymbolic AI, as well as the development of new methods and metrics for the verification of neuronal networks. Approaches regarding the assessment of performance, robustness and comprehensibility will be compiled. In addition, an open data set is planned to be shared to enable research based on realistic cases and safety relevant challenges. Finally, social concerns should also be considered relating to the certification of learned algorithms.
Structure
openGENESIS provides a convenient and legal framework with lean and efficient structures. It is ensured by the Eclipse Foundation, which hosts the working group of openGENESIS. The collaborative platform also provides a flexible setting for openGENESIS spotlight projects (GSLP) to solve specific challenges in the community.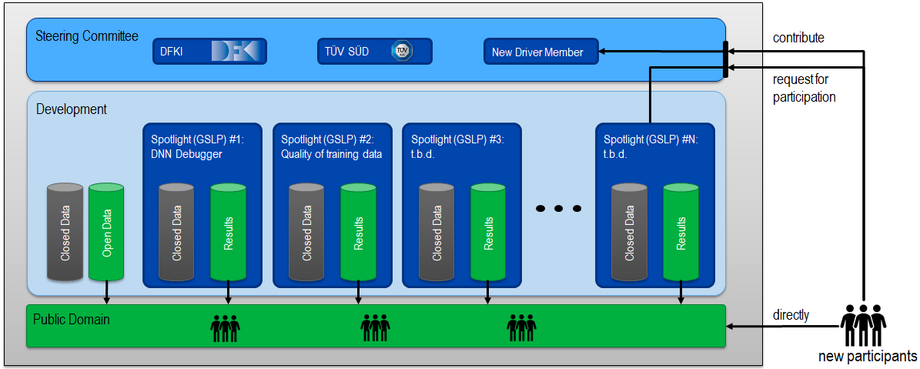 These projects can be initiated by one or more participant, taking a new aspect or improving approaches within the scope of openGENESIS. Partners retain their intellectual property, but are required to share their results and methodologies within the community. If the spotlight partners agree, spotlight projects can provide data to other projects or to the public. A steering committee manages the openGENESIS platform, defining and maintaining the scope and road map. It also decides on the acceptance and integration of new spotlight projects, and acts as a first contact.
Examples for potential openGENESIS spotlight projects (GSLP)
The participants of a spotlight project define their own development or research object. In order to give a better idea of possible goals within openGENESIS, the following examples of presumably relevant considerations are listed:
Define data set interest and how they should be made available
Establishment of an open and public available training and validation data set
Methods for goal-oriented generation of synthetic data of behavior of vulnerable road users
Identification of the necessary properties of synthetic data for an adequate real data representation
Advances in understandable and explainable AI
Find and define metrics for quantitative statements about performance and robustness
Discuss possible adjustments of safety standards to fit for machine learning
Platform based AI abstraction for better algorithm verification
Upcoming Events
First meeting of the openGENESIS Working Group, TÜV Süd, Munich
Date: Tue, April 30, 2019, 9:00 AM – 4:30 PM CEST
We are happy to invite you to our first Eclipse openGENESIS Working Group meeting. The working group is in the founding phase and several companies already decided to join the openGENESIS WG, like TÜV Süd, DFKI, AiMotion and IMotive. This event will bring all interested parties together for information about the Eclipse Working Group idea. We will also discuss technical aspects which seem interesting for closer examination and start an open exchange.
For agenda and event registration, see this Eventbrite page.
For hotel information, directions to the meeting, and other information about visiting Munich, see this file.
Participation
To participate in this community a minimum membership in the Eclipse Foundation as a Solution Member is necessary. Within openGENESIS two classes of membership are available:
Development Members
Development Membership is usually without an additional fee, but members are required to execute the openGENESIS Participation Agreement. They are also able to initiate or participate in spotlight projects under the umbrella of openGENESIS. To start a spotlight project, a project proposal must be submitted to the steering committee. As a minimum, this should contain:
(Tentative) title of spotlight project
Your contact information
Participating entities
Objective of the spotlight proposal
Description of the approach to reach the objective
Definition of planned data privacy

Driver Members
A Driver Member gives an annual fee and must execute the openGENESIS Participation Agreement. They can also initiate and participate in spotlight projects, and are additionally part of the steering committee.
Members
Members (when founded)
Members (in negotiation)
Interested parties
Current Status
The openGENESIS Charter is drafted and available for review .
Please contact ralph dot mueller at eclipse minus foundation dot org for more information.