I-Card Service 1.0

The SOAP I-Card Service provides the core processing services for thin-client selectors including: Org.eclipse.higgins.hbx as well as the I-Card Manager.
Versions
The I-Card Service 1.0 was introduced in Higgins 1.0 and supports the RPPSService endpoint. See also I-Card Service 1.1.
RPPSService
The SOAP endpoint is defined here: RPPSService WSDL.
The service assumes transport level security
Most messages include a username and password for authentication
Approximately 110 message types
Implementation
Architecture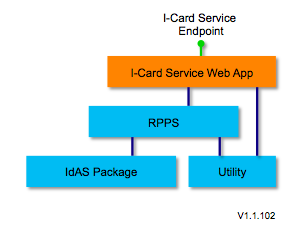 Data Model
Within the I-Card Service's RPPS Package are some components that persist data objects on behalf of the user. These include user account data, the users set of cards, and other data. Some components use IdAS to persist their data. Others manage their own local data stores "above" IdAS. We call this data model "Personal Data Model 1.0".
See Also