Henshin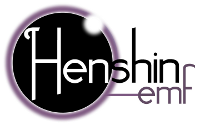 Henshin is an in-place model transformation language for the Eclipse Modeling Framework (EMF). It supports direct transformations of EMF model instances (endogenous transformations), as well as generating instances of a target language from given instances of a source language (exogenous transformations). Its main features are:
Basic transformation definition and execution

Analysis

Advanced rule definition

Integration with other tools
Getting started
Please refer to the official Henshin website for installation instructions and a tutorial showing the first steps in Henshin.
Look at the Henshin meta-model for more information about how model transformations are specified in Henshin and what their capabilities are. Details about rule creation and rule application can be found in the articles about the graphical editor and the interpreter.
Resources
Screenshots