Firefox-Embedded Selector 1.0 Installation
Note: starting at 0.5.0 and beyond the Higgins extension supports the Firefox auto-update mechanism. See step 5 below.
1. Start up Firefox 1.5.0.2+
2. If under Options; Content you have "Warn me when web sites try to install extensions or themes" checked, you will need to add the Higgins download site to the list of allowed sites.
3. Click DownLoad HBX 0.5.X and wait for the Install Now button to be activated. you should see: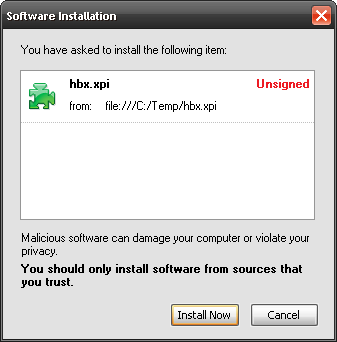 4. Click on "Install Now". After this you can see the Higgins extension included in with your other extensions in the Extensions list (Tools > Extensions):
5. Restart Firefox (close all your Firefox windows) and open the Extensions list (Tools > Extensions):
Note: At any time you can click "Find Updates" to see if there is a newer version of the Higgins extension.
6. And on the toolbar you should see:
7. Click on the mouse to enter our i-card broker prototype site.