Ecore Tools

The Ecore Tools component provides a complete environment to create, edit and maintain Ecore models. This component eases handling of Ecore models with a Graphical Ecore Editor and bridges to other existing Ecore tools (Validation, Compare, generators...). The Graphical Ecore Editor implements multi-diagram support, a custom tabbed properties view, validation feedbacks, refactoring capabilities... The long-term goal is to provide the same level of services as does JDT for Java.
See Ecore_Tools/New_and_Noteworthy for a summary of its features and functionality.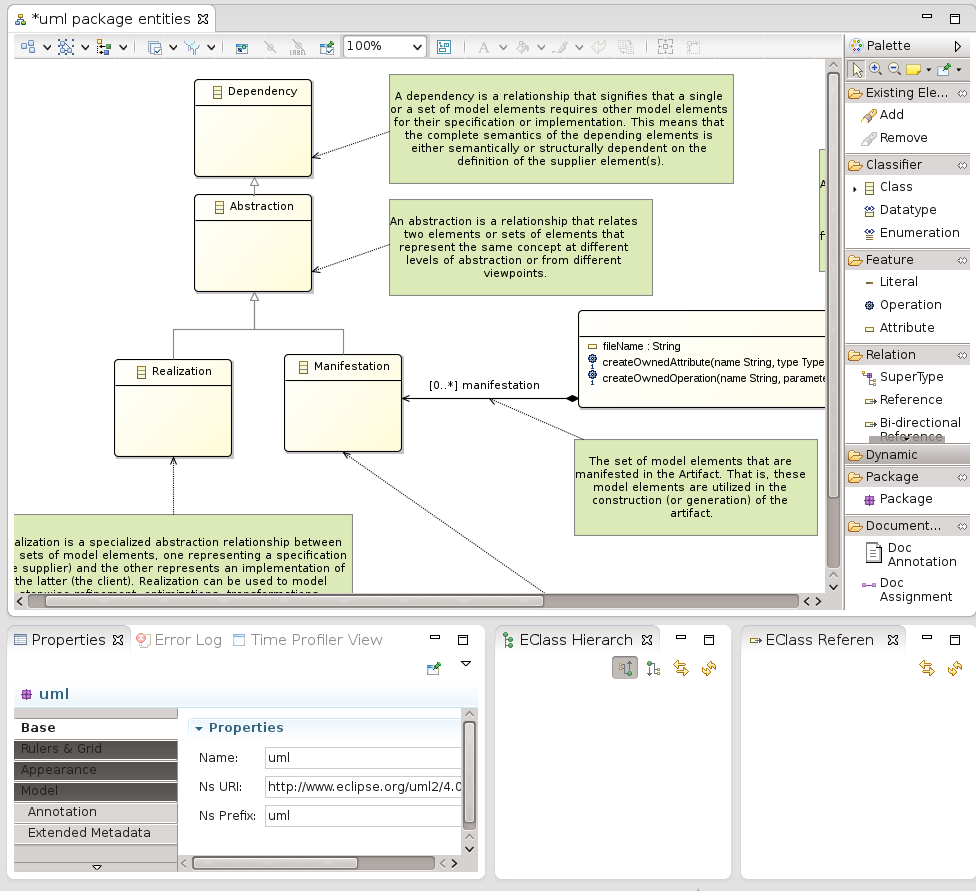 | | | | | | | | | |
| --- | --- | --- | --- | --- | --- | --- | --- | --- |
| Documentation | | | | Resources | | | | Development |
Architecture
EcoreTools is a modeler defined using the Eclipse Sirius project.
The graphical modeler is defined in the plugin org.eclipse.emf.ecoretools.design which contains :
./description/ecore.odesign : the editor specification which is interpreted by sirius
./src/org/eclipse/emf/ecoretools/design/service : some small java utilities used by the editor specification.
and other classes for specific integrations with Eclipse (wizards...)
Properties views and embedded wizards are defined in the plugin org.eclipse.emf.ecoretools.design.properties which is generated using the EEF project.
Features
Focused diagrams : possibility to DND a model element into the diagram area to show its graphical representation
Doc Annotations support : ability to graphically create and edit doc annotation of an Ecore model
Related Elements import : ability to import elements in a diagram based on their relationships with others
Doc Table support : ability to edit doc annotations using a table.
Smart direct Edit : type "name:String", or "[1]", or ":Integer" and the modeler will figure what you meant.
EOpposite support : EOpposite References are displayed in the diagram as multi-role edges.
Validation layer : The diagram editor can be configured so that any validation Error will be highlighted in the shape.
Multi-Ecore : a diagram can represent elements from distinct Ecore files.
Dependencie View : a diagram editor to inspect inter-EPackage dependencies.
Tabbed Properties View : provide advanced capabilities to edit the ecore model
Diagram example from Ecore.ecore model : maintain this as an example and show editor capabilities through this model
Installation
Use the Eclipse Luna update-site.
Roadmap
Ecore Tools 2.0 was shipped in on June 25, 2014 and is part of the Luna Simultaneous release.
Team
EcoreTools is currently developped by :
Any help is welcome !
Contact
Any issue should be reported to the Bugzilla > EMF: Tools. You may also contact the team using the EMFT newsgroup.