Eclipse Testing Day 2013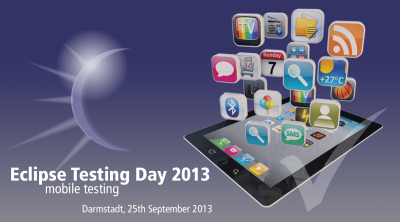 Twitter hashtag: #etd2013
About the Testing Day
2013 is the fourth consecutive year of the Eclipse Testing Day - a not-for-profit, full-day event dedicated to topics in testing. The event is organised by BREDEX GmbH and the Eclipse Foundation.
This year, the focus is on mobile testing.
Topics of interest include:

Eclipse projects with mobile aspects - and their testing
Cross-platform development and testing for mobile applications
Eclipse tooling for developing and testing mobile applications
UX design in mobile projects
Case studies of mobile testing projects
Mobile testing as a part of the application lifecycle
Comparisons between testing in desktop and in mobile projects
Manual, automated and crowd testing for mobile projects
Call for Papers- now closed

The call for papers is now closed, and the program will be announced before the end of July.
Talk details
Talks will be in English, and will be between 30 and 40 minutes, including time for questions.
Date, time and venue
The Eclipse Testing Day 2013 will take place on 25th September 2013 from 8.30am to 5pm, followed by an evening reception.
The day will be hosted in the Commundo Tagungshotel Darmstadt:

Commundo Tagungshotel
27 Hilpertstraße Darmstadt,
HE 64295, DE

Ticket prices
As the event is not-for-profit, the ticket prices are reduced to their minimum, and cover the costs of catering and room rental.
Eclipse Foundation members : 30€ net.
Non-members: 45€ net.
We also have a limited amount of student tickets for 25€ net.
Agenda
The day will begin with registration at 8.00 am.
| | | | |
| --- | --- | --- | --- |
| 8.00 | Registration opens | | |
| 8.45-9.15 | Welcome | | |
| 9.15-10.00 | Keynote | | |
| 10.00-10.40 | Talk 1 | | |
| 10.40-11.10 | Coffee Break | | |
| 11.10-11.50 | Talk 2 | | |
| 11.50-12.30 | Talk 3 | | |
| 12.30-14.00 | Lunch | | |
| 14.00-15.30 | Panel discussion | | |
| 15.30-16.00 | Coffee Break | | |
| 16.00-16.40 | Talk 4 | | |
| 16.40-17.20 | Talk 5 | | |
| 17.20-19.30 | Evening reception | | |
Program committee

Achim Lörke, BREDEX GmbH
Prof. Dr. Ina Schaefer, TU Braunschweig
Peter Friese, Zühlke Engineering GmbH
Timeline
May 2013 Call for Papers begins
21st June Call for Papers closes
End of July Speakers informed and registration opens
25th September Testing Day
Be a sponsor
As in previous years, the Testing Day will be supported by sponsors and supporting organizations. There are various options for sponsorship of the Eclipse Testing Day 2013.
See the Sponsoring Page for details.
Sponsors and supporting organizations

The Eclipse Testing Day is made possible by sponsors and supporting organizations. If you would like to sponsor or support, see the Sponsoring Page for details.

Sponsors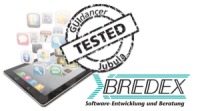 BREDEX GmbH is software development and consulting company based in Braunschweig, Germany. Alongside individual customer software development for desktop and mobile applications, they are also behind the Jubula Functional Testing Tool Project at Eclipse and GUIdancer, Jubula's commercial counterpart. BREDEX GmbH became strategic members of the Eclipse Foundation in 2010.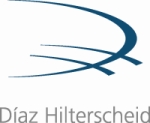 http://www.diazhilterscheid.com
Díaz & Hilterscheid offers worldwide professional consultancy services and IT solutions in business-related and technical projects within the financial sector and industry.
In the areas of financial services, IT management and quality services and computer law, our all-encompassing process covers everything from the analysis to the design and the release into production.
As an accredited training provider we give staff training courses in several languages on the subject of quality assurance.
The conferences organized by Díaz & Hilterscheid are a meeting place for international visitors, exhibitors and renowned presenters from the industry sector. The Testing Experience magazine has hundreds of thousands of readers worldwide.
www.diazhilterscheid.com



http://www.gfb-softwareentwicklung.de/
Recurring tasks and processes lead people to take a closer look into a particular problem area. With years of practical experience, we have decided to develop innovative software solutions in such key areas using our expertise. These solutions are tailored to the needs of professional users and help them to work in a more efficient and safer manner. To this end, GFB Softwareentwicklungsgesellschaft mbH, a 100% subsidiary of GFB IT Consulting and Services GmbH was founded. The consulting firm, formed in 1997, has many years of experience in software testing and quality management.
Quality improvement through automation. GFB with its standard software Q-up supports the automated generation of test data. Based on a customer-specific test data strategy Q-up realizes time and cost savings for increased data quality throughout the entire life cycle of your IT applications.
Supporting Organizations

http://www.testingexperience.com/


http://www.professionaltester.com/
Contact
For more information email the Eclipse Testing Team
Previous Testing Days