Eclipse DemoCamps November 2012/Kassel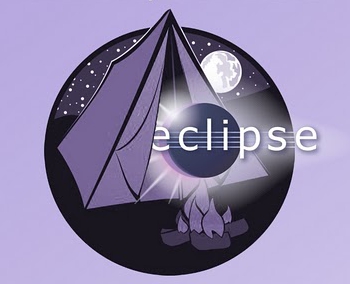 What is an Eclipse DemoCamp?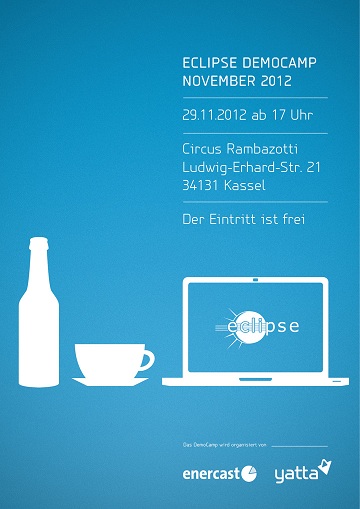 Location
Circus Rambazotti, Ludwig-Erhard-Str. 21, 34131 Kassel
If you travel by train and arrive at the ICE Bahnhof Kassel-Willhelmshöhe, take the Tram 4 and exit at "Marbachshöhe".
Date and Time
Thursday, November 29th, 2012, opening 17:00
Sponsors
This Eclipse DemoCamp is sponsored by Yatta Solutions GmbH and enercast GmbH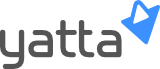 Organizer
Manuel Bork, Yatta Solutions
Agenda
17:00 Meet & Greet
17:15 Welcome & Opening: Johannes Jacop, Thomas Landgraf, Ralph Müller
17:30 Codegenerierung, real-word, large-scale: xtext & xtend bei der Bundesagentur für Arbeit - Patrick Siegel, Senacor Technologies AG
18:00 Architektur-Review: Package-Dependency-Analyse mit UML, QVT und OCL Validierung - Dr. Felix Klar, Yatta Solutions
18:30 Break: Snacks
19:00 Xtend: Active Annotations to automate the boring parts of Java programming - Moritz Eysholdt, itemis AG
19:30 Modeling with SDMLib - an inline DSL - Albert Zündorf, Uni Kassel
20:00 Beer
After Event
AfterWork Party, Casa Colombiana (Karte)
Presenters / Call for Demos
If you would like to present at this event, please add your proposal here. Depending on the number of submitted demos, we may have to limit the number of presented demos.
Who Is Attending
If you plan on attending please add your name and company to the list below. If you have any trouble with the wiki, just send an email to Manuel Bork.
Stefan Pietsch, MULTICHART Solution GmbH
Ralph Mueller, Eclipse Foundation
Bruno Joseph
Jelena Alter, Eclipse Foundation
Susanne Schörling, Yatta Solutions GmbH
Christof Lorenz GWAVA
Ralph Winzinger, Senacor Technologies AG
Raphael Vaino, Senacor Technologies AG
Thomas Traude, adesso AG
Vitali Pankraz
Bastian Schäfermeier
Andreas Koch, FG Software Engineering, Universität Kassel
Thorsten Brostmeyer, segmeno software GmbH
Christian Mauro, B. Braun Melsungen AG
Zoran Kljajic-Höck, B. Braun Melsungen AG
Thomas Lahmer, B. Braun Melsungen AG
Stefan Stützer, Micromata GmbH
David Wyzgol, FH Dortmund
Thilo A. Kroniger, FH Dortmund
Martin Peters, FH Dortmund
Can Elmali, FH Dortmund
Klaus Simon, Uni Kassel
Sebastian Schulz
Tung Ngo
Lennert Raesch
Stephan Göbel
Christoph Eickhoff
Michael Müller
Till Amma
Fabian Szeltner, LWV Hessen
Past DemoCamps
Eclipse DemoCamp Juno 2012
Eclipse DemoCamp November 2011
Eclipse DemoCamp Indigo 2011
Eclipse DemoCamp November 2010