Eclipse DemoCamps Luna 2014/Stuttgart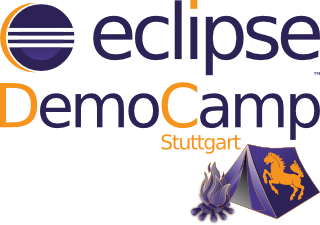 Location
University Stuttgart-Vaihingen
Informatik Building
Universitätsstraße 38
70569 Stuttgart
Room Hörsaal 38.03
Date and Time
Wednesday, July 2nd, 2014
17:30 hrs
Sponsors
This DemoCamp will be sponsored by itemis AG.

itemis AG is an Eclipse strategic member and the leading company for model-driven software development.
This DemoCamp is co-sponsored by infos Stuttgart.

The Informatik-Forum Stuttgart promotes the Computer Science Department of the University of Stuttgart. The primary objective is to bring forward the computer science and to support young scientists as well as to facilitate the establishment and development of relations between science and industry with emphasis in the Stuttgart region.
Please contact Niko Stotz if your company is willing to co-sponsor this event.
Organizer
Please contact Niko Stotz if you would like to present at this event. We plan 20 minutes per demo.
Agenda
The language of presentation will be English.
Time
Topic
Presenter
Description
17:30
Reception
Niko Stotz, itemis AG
tbd
IoT with MQTT and Paho for Webpages
Dominik Obermaier, dc-square GmbH
Angelika Wittek, KONTENO
tbd
tbd
Jabylon - modern software translation
Johannes Utzig, SEEBURGER AG
Sascha Vogt, SEEBURGER AG
Translating software can be quite challenging since it involves coordination between developers and translators. The workflow is complex because translators often don't have access to the source code repositories and developers need to keep the template files and translations in sync. The file formats provide challenges on their own by means of different encodings, escape sequences and syntax rules. Not all potential translators have the technical skill or they deem the entry barrier too high to get involved in an open source project.

Jabylon aims to simplify the process by tight integration into a project's SCM to keep developers and translators in sync. Translators are also supported by a feature rich web editor that lets them focus on the task of translating without worries about encodings and file formats. This demo will show the Jabylon translation server in action and how it can be leveraged to ease the translation of your software.

tbd
Eclipse: Effective, efficient – and easy to use?
Mona Haux, itemis AG
Development environments are supposed to be used by people with high proficiency in computer science - therefore usability is rarely considered important in an IDE.

Instead of broaching the issue of code, architecture or other techie stuff, in this talk the focus is on usability. After a short introduction to usability engineering, the focus will be on showing why usability is important – even and especially in development environments. In order to illustrate this, examples of existing usability problems in an eclipse-based traceability tool will be given and possible improvements will be presented.

tbd
Internet of things with extensible C
Kolja Dummann, itemis AG
Internet of things is becoming more and more important for embedded software. Customers expect products to be able to communicate with each other and time to market decreases, also hardware resources are often limited and energy efficiency is of a strong concern. Tools should be able to adapt to these often fast changing environments. Such adaptability must go beyond adding a couple of new dialogs or data attributes in the repository — the languages underlying the tools themselves must be extensible. Today, with software being written either in C or with inflexible and proprietary modeling tools, we are far from this state.
tbd
Building HTML5 UIs with Franca for IoT devices
Klaus Birken and Tamás Szabó, itemis AG
Franca is an open source framework which can be used to define and transform software interfaces. Apart from the various design and analysis possibilities it provides support for the generation of JavaScript stubs from the interfaces. The generated code uses Websockets to communicate between the client(s) and the server, and we integrate these stubs into a simple HTML5 UI to control a robot arm. The device is also connected to an MQTT server to provide sensor data for further processing. The talk will also point out futher integration possibilities between Franca and the Internet of Things domain.
19:00
Break
20:30
Get Together
Who Is Attending
Please use Eventbrite Web Service to register and see participants.
Please contact Niko Stotz if you have any questions.
For Bloggers and Users of Twitter, Flickr, etc.
In case you plan to blog or tweet about the Eclipse DemoCamp in Stuttgart, please use the tag "#democampstg" in order to make it easier to find all the comments and pictures. Thanks a lot for telling the world about the event!