Eclipse DemoCamps 2008 - Ganymede Edition/Hamburg

What is an Eclipse DemoCamp?
Location
Hamburg's Former Coffee Exchange
Pickhuben 3
20457 Hamburg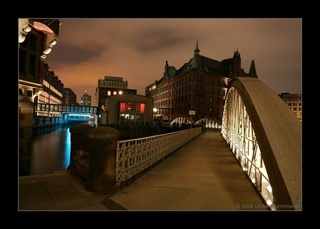 (picture courtesy of Ulrike Sturmhoevel - http://homepage.hamburg.de/ullis-schreibselseite/hh_nacht_speicherstadt.htm)
Directions
Public Transport:
Date and Time
June 16, 18:00 - 20:30
Organizer
Presenters
If you would like to present at the DemoCamp, please feel free to add your name and topic to the list. Depending on the number of people interested we may have to limit the number of presenters and time of each demo.
Schedule
18:00 Welcome 18:10 - 18:40 Sven Efftinge (itemis AG), Preview of Xtext 2.0 18:45 - 19:15 Gerd Wütherich (Independant Consultant), Spring Dynamic Modules for OSGi Service Platforms 19:15 - 19:30 break 19:30 - 20:00 Matthias Lübken (akquinet it-agile GmbH), Serverside Equinox & GWT 20:05 - 20:15 Stefan Reichert (Lufthansa Systems), Wicked Shell - A Lightning Demo 20:15 - 20:30 Reginald Stadlbauer (CEO froglogic), Automated GUI Testing of Eclipse RCP Applications 20:30 - 20:45 Frank Zimmermann (Nordakademie), Generation of format adapters for SAP XI. A model driven approach.
Who Is Attending
If you plan on attending please add your name to the list below. We'd like to see as many people show up as possible.
Peter Friese, itemis AG
Rene Mertins, DE PAOLI Ltd.
Frank Gasdorf, Plath GmbH
Martin Lippert, akquinet it-agile GmbH
Miguel Garcia, Tech Univ Hamburg-Harburg
André Lahs, Gentleware AG
Simon Zambrovski, TU Hamburg-Harburg
Markus Alexander Kuppe, Versant GmbH
Moritz Eysholdt, itemis AG
Alexander Fürstenau, w//Center Consulting GmbH
Tom Quellenberg, subshell GmbH
Henning Wolf, akquinet it-agile GmbH
Sven Efftinge, itemis AG
Alexander Karnstedt, IDP Dr. Stein GmbH
Rakesh Prithiviraj, TUHH
Holger Schill, itemis AG
Frank Zimmermann, Nordakademie
Enrico Schnepel, FHTW Berlin
Marko Boger, Gentleware AG
Pascal Alich, PPI AG
Sebastian Zarnekow, AF Software GmbH
Heiko Behrens, AF Software GmbH
Martin Flügge, FHTW Berlin
Gerd Wütherich, Independant Consultant
Reginald Stadlbauer, CEO froglogic
Harri Porten, CEO froglogic
Jan Rohwer, PPI AG
Matthias Luebken, akquinet it-aile GmbH
Daniel Dietrich, Gentleware AG
Benjamin Diedrichsen, Otto GmbH & Co KG
Sebastian Sanitz, akquinet it-agile GmbH
Marcel Wegermann, akquinet it-agile GmbH
Stefan Reichert, Lufthansa Systems
Jan Köhnlein, itemis AG
Jörn Dinkla, Jörn Dinkla
Stephan Haut, Rohde & Schwarz BICK Mobilfunk GmbH
Michael Reilich, Rohde & Schwarz BICK Mobilfunk GmbH
Ingo Meyer, IP-Design Consulting
Christian Hager, tecis Finanzdienstleistungen AG
Helge Klimek, Lufthansa Systems
Christian Pelster, Lufthansa Systems
Michael Biller, askon
Damir Bartakovic, askon
Oliver Libutzki (tantative), b+m Informatik AG
Lars Bilger, Lufthansa Systems
Sascha Müller, UHH
Rene Preissel, oose