Eclipse Communication Framework Project
ECF Developer Resources (CVS access, newsgroup/mailing list access, etc.)

ECF Conference Calls
ECF has weekly conference calls to discuss current and future issues on our roadmap. Anyone is welcome to join us.
International: 613-287-8000
Toll free: 866-362-7064
Participant passcode: 892048#
Next Conference Call: Tues, April 28, 2008 1500 UTC
April 28, 2009, 8:00am pacific time/1500 UTC
Public and Private Chat Groups
ECF also has ongoing public and private chat groups. Please join us!
IRC (public): irc.freenode.net channel: #eclipse-ecf ECF URL irc://<user>@irc.freenode.net/#eclipse-ecf

XMPP (private): <user>@ecf.eclipse.org multi-user chat: ecf

ECF Generic (public): ecftcp://ecf.eclipse.org:3282/server
Project Planning
New Stuff
Comments on the Riena Project Goals and Relationship to ECF project
ECF Connection Creation and Management
Extending Real-Time Shared Editing for Use with Other Editors
Storage/Retrieval of IDs, IContainers using Equinox Secure Preferences
REST abstraction (H. Staudacher)
ECF Adopters
ECF Adopters List (please add yourself if you are using ECF)
Coding Conventions
ECF has decided to use the Equinox Coding Conventions. Also on this page are links to java source code formatter to use in Eclipse to easily enforce these conventions.
ECF at Eclipse Summit Europe 2006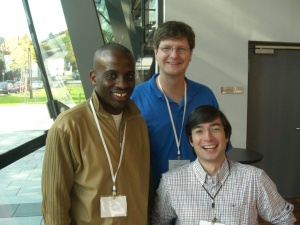 Check out these guys. They look happy to be working on Eclipse and ECF, no?
Also see the ECF presentation given at Eclipse Summit Europe 2006.
ECF at Eclipse Summit Europe 2008
Take a look at ECF on Eclipse Summit Europe 2008
ECF at EclipseCon 2009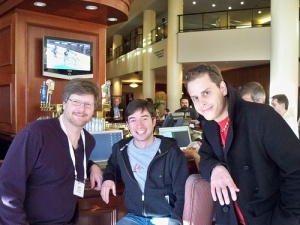 ECF was busy at EclipseCon 2009, giving a number of talks and tutorials. The photo shows Scott, Mustafa and Markus wrapping up the conference at the Hyatt Bar, which is adjacent to the Santa Clara Convention Center. For your convenience, here is a short overview of ECF activities at EclipseCon 2009:
For those who couldn't make it, if the busyness during the conference is to serve as an indicator, you can expect a flurry of post-con blog posts and tweets to show up, giving you an idea of what EclipseCon 2009 was like.
Documentation
Current Projects
Components
API
Build
Others