EMF Compare
The EMF Compare project is part of EMF (Eclipse Modeling Framework).
EMF Compare brings model comparison to the EMF framework, this tool provides generic support for any kind of metamodel in order to compare and merge models. The objectives of this component are to provide a stable and efficient generic implementation of model comparison and to provide an extensible framework for specific needs.

The comparison process is divided in 2 phases: matching and differencing. The matching phase browses the model version figuring out which element comes from which other one, then the differencing process browses the matching result and create the corresponding delta. This delta may itself be serialized as a model.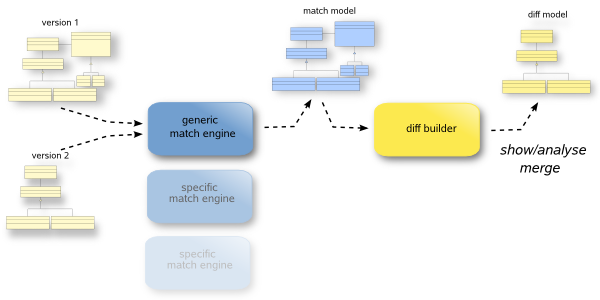 Compatibility

The EMF Compare development team does its best to maintain downward compatibility towards Europa (3.3). Following is the compatibility chart :

| EMF Compare | Eclipse 3.2 - EMF 2.2 | Eclipse 3.3 - EMF 2.3 | Eclipse 3.4 - EMF 2.4 | Eclipse 3.5 - EMF 2.5 | Eclipse 3.6 - EMF 2.6 |
| --- | --- | --- | --- | --- | --- |
| 0.7 | OK | | | | |
| 0.8 | KO | OK | OK | | |
| 1.0 | KO | OK | OK | OK | OK |
| 1.1 | KO | KO | OK | OK | OK |

An empty cell indicates that the compatibility hasn't been tested for a particular combination.

Documentation

User Guide

Developer Guide

You'll find a few more tutorials on the Eclipse Online Help once you installed EMF Compare

Architecture
Using the Compare Services
Adapting the Comparison Process to your Ecore Model
Adding new actions to the export menu

Feel free to add any tutorial or documentation on the wiki, we'll integrate them back in the online help.

FAQ
Roadmap

1.1.0 - Eclipse 3.6

- Match Scoping
- Performances and Scalability
- Better stability


History

1.0.0 - Eclipse 3.5 see New and Noteworthy

0.8.0 - Ganymede (2008) see New and Noteworthy

0.7.0 branch (2007)

- merge/differencing
- reference documentation
- « 2 way » comparison
- Ecore/XMI Id handling
- metamodel agnostic
- match engine extensibility
- export API


Events

10/06/2009 - Graduation to EMF Graduation Review

20/03/2008 - Short talk given at EclipseCon 2008 An update on EMF Compare

10/10/2007 - Talk given at Eclipse Summit Europe 2007 EMF Compare : One year later.

05/03/2007 - We presented the project at EclipseCon through a panel. Here is some feedback: Model Comparison Panel 2007.

Contacts

Any issue should be reported to the Bugzilla You may also contact the team using the EMF newsgroup.

Team

The project developers are:

Cedric Brun (Obeo), project lead

Laurent Goubet (Obeo)

Jonathan Musset (Obeo)

Moritz Eysholdt (Itemis)